Product Status
Discontinued on 1/19/2023
HDMI over IP Extender Kit with Built-in 2-Port Splitter, RS-232 Serial and IR Control, 1080p 60 Hz, 328 ft. (100 m), TAA
Part Number:
B160-201-HSI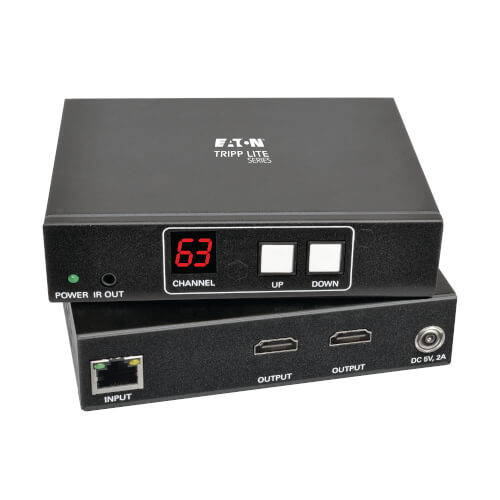 This Model has been retired and has not been replaced. An Owner's Manual and other information for the B160-201-HSI is available on the model support page
---
The B160-201-HSI 2-Port HDMI over IP Transmitter/Receiver/Extender Kit extends and distributes HDMI audio/video, RS-232 serial and IR (infrared) remote signals from the source to the display located up to 328.08-ft. (100 m) away, which is more than 200-ft. (60.96 m) farther than a traditional Cat5e/6 solution. By adding a chain of low-cost unmanaged network switches, such as Tripp Lite's NG5, you can continue extending the distance between source and display up to 328.08-ft. (100 m) per switch. Two HDMI outputs on the receiver allow the connection of two displays.
Create a multi-in, multi-out installation with up to 64 transmitters and 255 receivers* by including dedicated managed Ethernet network switches** with Internet Group Management Protocol (IGMP), such as Tripp Lite's NSS-G16D2. With a compatible B160-Series receiver, you can send the HDMI video source to any analog or digital display, including VGA and DisplayPort™, allowing you to mix and match technologies and use existing monitors. The IGMP-enabled switch will let you manage all connections for centralized control over which sources show on which displays.
The B160-201-HSI supports video resolutions up to 1920 x 1080 (1080p) at 60 Hz in a point-to-multipoint switch installation. It extends IR control signals that control a source, such as a Blu-ray™ player, from a remote display, as well as RS-232 signals at serial baud rates up to 57600 Bps. The transmitter and receiver units mount to a wall, rack or pole using the including hardware.
*Unmanaged switch installations are limited to two transmitter units. The number of receivers is limited to the number of ports remaining on an unmanaged switch.
**B160-Series designed for use with dedicated network switch. Connecting to a switch used with other networking equipment will result in degraded or non-functional performance.
Extends and Distributes HDMI A/V, Serial and IR Control Signals over Cat5/6 Cabling
Converts audio/video to an IP-based signal that is transmitted point-to-point to a display 328.08-ft. (100 m) away
Add low-cost network switches between transmitter and receiver to continue extending distance up to 328.08-ft. (100 m) per switch
Dual HDMI outputs on receiver for connecting 2 displays
HDMI output on transmitter for connecting a local display
Create a Multi-In, Multi-Out Installation Using B160-Series Transmitters and Receivers
Connect up to 64 transmitters and 255 receivers through multiple dedicated managed network switches
IGMP-enabled switches allow centralized control over which sources show on which displays
Video source can be sent to any analog or digital display, so you can mix and match technologies and use existing monitors
Enhanced Technical Features
Supports video resolutions up to 1920 x 1080 (1080p) @ 60 Hz
Uses H.264 video compression standard
Transmits on 20-60 kHz IR frequency
Extends IR control signals that control a source from a remote display
Supports RS-232 serial baud rates up to 57600 Bps
HDCP and 3D compatible
Plug-and-Play Functionality
No software or drivers required
Hardware included for mounting on wall, rack or pole
TAA-Compliant
Compliant with the Federal Trade Agreements Act (TAA) for GSA Schedule purchases
OVERVIEW
| | |
| --- | --- |
| UPC Code | 037332196811 |
| Product Type | Extender Kit |
| Technology | DVI; HDMI; IR; A/V over IP; Cat5/5e; Cat6 |
VIDEO
Video Input
HDMI (FEMALE)
Video Output
HDMI (FEMALE)
Max Supported Video Resolution
1920 x 1080 (1080p @ 60Hz)
Max 1280 x 720 (720p) Range (ft)
328
Max 1920 x 1080 (1080p) Range (ft)
328
Transmitter Video Input
HDMI
Transmitter - Number of Video Outputs
1
Transmitter - Local Display Output
HDMI
Receiver/Transceiver Video Output
HDMI
Receiver - Number of Video Outputs
2
Range Extension using other Tripp Lite product
328 ft.
Recommended Cabling
N202-Series Cat6 Patch Cable
Other Tripp Lite product used to extend range
network switch
Max Supported Color Depth
24-bit True Color
HDR Support
No
3D Video Supported
Yes
Maximum Signal Range (ft)
328
Maximum Signal Range Details

328 ft via Cat6

275 ft via Cat5e
AUDIO
| | |
| --- | --- |
| Audio Input | HDMI |
| Audio Output | HDMI |
| Audio Specification | Stereo Audio |
INPUT
| | |
| --- | --- |
| AC Power Adapter Plug(s) | AS/NZS 3112 Australia; BS 1363 UK; CEE 7/16 Schuko; NEMA 1-15P North America |
| AC Power Adapter Input Specs (V / Hz / A) | 100-240V / 50/60Hz / 1.0A |
| AC Power Adapter Output Specs (V / A) | 5V / 2A |
| AC Power Adapter Cord Length (ft.) | 4.5 |
| AC Power Adapter Cord Length (m) | 1.4 |
| Voltage Compatibility (VAC) | 100-240 |
POWER
| | |
| --- | --- |
| Power Source Type | AC Adapter |
| AC Plug Type | NEMA 1-15P; BS1363; CEE 7/16 Schuko; AS/NZS 3112 |
| Power Source | Transmitter and Receiver (Included) |
| Power Over Cable (PoC) Support | No |
| DC Barrel Plug | OD: 5.5 x 2.1 x 7.5mm, Positive Pin, Negative Sleeve |
| Power Consumption (Watts) | 12.6 |
USER INTERFACE, ALERTS & CONTROLS
| | |
| --- | --- |
| LED Indicators | RJ45 Output (Green / Power, Orange / Signal), Channel Signal (Red), Power (Green) |
PHYSICAL
| | |
| --- | --- |
| Color | Black |
| Material of Construction | Steel |
| Included Mounting Accessories | Wallmount |
| Number of Displays | 2 |
| Optional Mounting Accessory Notes | Can DIN Mount using Tripp Lite Bracket B110-DIN-02 |
| Form Factor/Mounting Options | Box; Wall-mount |
| Rackmountable | Yes |
| Receiver Unit Dimensions (hwd / in.) | 1.2 x 5 x 3.9 |
| Receiver Unit Weight (lbs.) | 0.2 |
| Shipping Dimensions (hwd / in.) | 3.10 x 5.90 x 11.50 |
| Shipping Weight (lbs.) | 3.30 |
| Transmitter Unit Dimensions (hwd / in.) | 1.2 x 5 x 3.9 |
| Transmitter Unit Weight (lbs.) | 0.2 |
| Unit Dimensions (hwd / in.) | 0.000 x 0.000 x 0.000 |
| Unit Packaging Type | Box |
| Housing | Metal |
ENVIRONMENTAL
| | |
| --- | --- |
| Operating Temperature Range | 32 to 104 F (0 to 40 C) |
| Storage Temperature Range | 5 to 122 F (-15 to 50 C) |
| Relative Humidity | 0% to 85%, Non-Condensing |
| BTUs | 43 BTU/Hr |
COMMUNICATIONS
| | |
| --- | --- |
| Signal Range (ft.) | 328 |
| EDID Compatible | Yes |
| IR Remote Extension Support | Yes |
| RS-232 Serial Extension Support | Yes |
| Consumer Electronics Control (CEC) Supported | Yes |
| Latency | 2-3 seconds |
CONNECTIONS
| | |
| --- | --- |
| Number of Ports | 2 |
| Side A - Connector 1 | (2) HDMI (FEMALE) |
| Side A - Connector 2 | 3.5MM (FEMALE); DB9 (FEMALE); RJ45 (FEMALE) |
| Side B - Connector 1 | (2) HDMI (FEMALE) |
| Side B - Connector 2 | RJ45 (FEMALE) |
FEATURES & SPECIFICATIONS
| | |
| --- | --- |
| 10/100 Ethernet Extension Support | No |
| Built-In Equalizer | No |
| HDCP Specification | 1.4 |
| Driver Required | No |
| Recommended Category Cable | N202-Series Cat6 Patch Cable |
STANDARDS & COMPLIANCE
| | |
| --- | --- |
| External Power Supply Certifications | BSMI; CB; CCC; CE; FCC; GS; PSE; RCM; TUV; UL; cUL |
| Product Compliance | RoHS; CE (Europe); REACH; FCC (USA); Trade Agreements Act (TAA) |
WARRANTY & SUPPORT
| | |
| --- | --- |
| Product Warranty Period (Worldwide) | 1-year limited warranty |