Product Status
Discontinued on 8/25/2022
24-Port 1U Rack-Mount 110-Type Color-Coded Patch Panel, RJ45 Ethernet, 568B, Cat6
Part Number:
N253-024-RBGY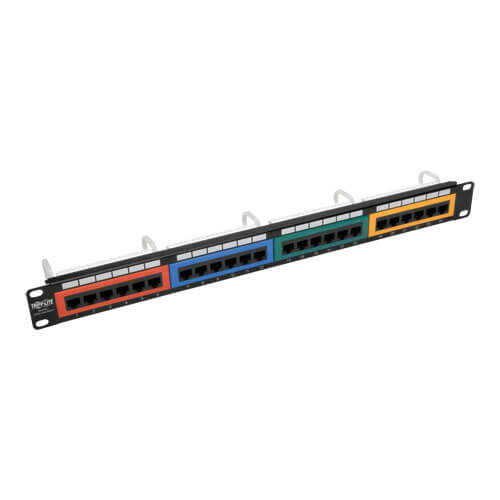 This Model has been retired and has not been replaced. An Owner's Manual and other information for the N253-024-RBGY is available on the model support page
---
The UL-approved N253-024-RBGY 24-Port 1U Rack-Mount 110-Type Color-Coded Patch Panel manages and organizes up to 24 input and output UTP Cat6 network cable connections in just 1U of an EIA-standard 19 in. rack.
The 24 RJ45 ports are split into four banks of six ports each that are color-coded—red, blue, green and yellow—for easily identifiable zones. Rear 110 connections are also color-coded for convenient EIA/TIA 568A/B wiring. All ports are numbered front and rear for quick identification of connections.
Recommended for Ethernet, Fast Ethernet and Gigabit Ethernet network applications, this durable metal patch panel supports 22 to 26 AWG stranded and solid wire.
Manages and Organizes 24 UTP Cat6 Network Connections

Recommended for Ethernet, Fast Ethernet and Gigabit Ethernet network applications
Ports split into 4 color-coded banks of 6 ports each for convenient zone cabling
Color-coded 110 connections for EIA/TIA 568A/B wiring
Ports numbered front and rear for easy ID of cable runs
Supports 22 to 26 AWG stranded and solid wire

Reliable Construction and Easy Installation

Mounts easily into 1U of EIA-standard 19 in. rack
UL-approved and RoHS-compliant
Durable metal construction
Meets or exceeds EIA/TIA TSB-40 Cat6 connecting hardware specifications
OVERVIEW
| | |
| --- | --- |
| UPC Code | 037332197450 |
| Product Type | Punchdown |
| Technology | Cat6 |
PHYSICAL
| | |
| --- | --- |
| Color | Black |
| Shipping Dimensions (hwd / in.) | 3.90 x 2.90 x 21.90 |
| Shipping Weight (lbs.) | 1.40 |
CONNECTIONS
| | |
| --- | --- |
| Number of Ports | 24 |
| Side A - Connector 1 | (24) 110 IDC |
| Side B - Connector 1 | (24) RJ45 (FEMALE) |
WARRANTY & SUPPORT
| | |
| --- | --- |
| Product Warranty Period (Worldwide) | Lifetime limited warranty |
Copper Network Cables
| | Model Number | Description |
| --- | --- | --- |
| | N262-001-BL | Cat6a 10G Snagless Shielded STP Ethernet Cable (RJ45 M/M), PoE, Blue, 1 ft. (0.31 m) |
| | N262-003-BL | Cat6a 10G Snagless Shielded STP Ethernet Cable (RJ45 M/M), PoE, Blue, 3 ft. (0.91 m) |
| | N262-005-BL | Cat6a 10G Snagless Shielded STP Ethernet Cable (RJ45 M/M), PoE, Blue, 5 ft. (1.52 m) |
| | N262-007-BL | Cat6a 10G Snagless Shielded STP Ethernet Cable (RJ45 M/M), PoE, Blue, 7 ft. (2.13 m) |
| | N262-010-BL | Cat6a 10G Snagless Shielded STP Ethernet Cable (RJ45 M/M), PoE, Blue, 10 ft. (3.05 m) |
| | N262-014-BL | Cat6a 10G Snagless Shielded STP Ethernet Cable (RJ45 M/M), PoE, Blue, 14 ft. (4.27 m) |
Copper Network Infrastructure
| | Model Number | Description |
| --- | --- | --- |
| | N235-001 | Cat6 Straight Through Modular In-line Snap-in Coupler (RJ45 F/F), TAA |
| | N235-001-WH | Cat6 Straight-Through Modular In-Line Snap-In Coupler (RJ45 F/F), White, TAA |