IP Remote Access KVM Switches include built-in IP remote access (also known as KVM over IP), so you can manage servers over a local network or over the Internet through a standard browser or multi-platform client software.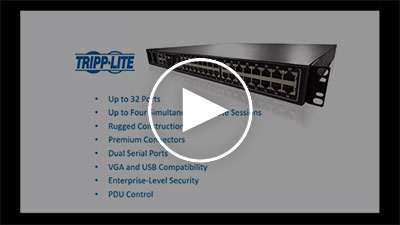 KVM Over IP Lets You Manage Critical Systems with Ease
IP KVM Switches are ideal for managing mission-critical systems. BIOS-level access allows you to solve complex problems efficiently and restore service before downtime hurts productivity... no server-resident software is required, so server performance and reliability are never compromised. Select models also allow remote control of connected monitored PDUs. Individual ports on the KVM can be assigned to a port on the PDU: cycle or power on/off connected servers without leaving the KVM session screen.
To build redundancy into your remote capabilities, select IP Remote Access KVM Switches support out-of-band dial-up connections for access to your servers if the network or Internet connection goes down. Multi-user models include dual power supplies and Ethernet ports for additional fault tolerance.
Top Security for Every Connection
Whether you access IP Remote Access KVM Switches locally or remotely, multiple levels of password security accommodate user and administrator accounts. Remote access is further protected with advanced encryption, access rights management, remote authentication and detailed activity logging.
See How an IP Remote Access KVM Switch Works with an Interactive Demo
An Eaton product specialist will walk you through the features and benefits of KVM over IP Switches. You'll have the opportunity to ask questions specific to your setup. By the end of the demo, you will gain an understanding of how these cost-effective, high-performance switches can provide you the flexibility to manage your systems, from the next room, down the street or across the globe.
Click to zoom
IP Remote Access KVM Switches allow one or more authorized users to access connected servers over the local network or the Internet.
Have questions or need help?
Chat is Offline
Contact an EatonCare Representative
To reach an EatonCare representative, please call:
877-ETN-CARE or 877-386-2273
800-268-3578 Canada
828-651-0786 International