Product Status
Discontinued on 8/5/2022
Thunderbolt 3 Dock, Dual Display - 4K 60 Hz, UHD, HDMI, DP, VGA, USB 3.2 Gen 1, USB-A/C Hub, GbE
Part Number:
MTB3-DOCK-02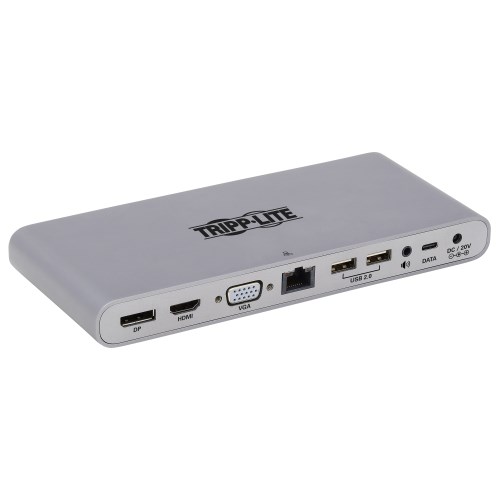 This Model has been retired and replaced by MTB3-DOCK-03. An Owner's Manual and other information for the MTB3-DOCK-02 is available on the model support page
---
Thunderbolt 3 Docking Station Turns Your MacBook or Other Notebook into a Workstation
This Thunderbolt 3 dock expands the potential of your MacBook or ThinkPad's Thunderbolt 3 port. It's ideal for transmitting digital 4K video to two large displays simultaneously, adding as many as five USB peripherals, recording a podcast, listening to music and connecting to a Gigabit Ethernet network—all at the same time.
Supports DisplayPort Alternate Mode for Transmitting Audio/Video Signals
By connecting the included Thunderbolt 3 cable to a source device that supports DisplayPort Alt Mode, you can output 4K video and digital audio to a compatible monitor, television or projector without installing special software drivers.
Thunderbolt 3 Supports Blisteringly Fast 40 Gbps Data Transfer Speeds
The included Thunderbolt 3 cable supports bidirectional speeds up to 40 Gbps, which is eight times faster than USB 3.0, four times faster than Thunderbolt 1 and twice as fast as Thunderbolt 2. With dual 20 Gbps channels moving data both directions at the same time, the MTB3-DOCK-02 is perfectly suited for 4K video streaming and editing on two monitors, as well as transferring large RAW video or CAD files.
DisplayPort Multi-Stream Transport (MST) Allows Connection of Multiple Displays
By connecting the included Thunderbolt 3 cable to a source that supports DisplayPort MST Mode, you may connect two displays simultaneously, so long as one of them is connected to the DisplayPort (DP) video port. Connect a DP monitor and an HDMI monitor or a DP monitor and a VGA monitor at the same time. This allows you to display the same image on both monitors, extend your host desktop across both with different windows open on each, or combine both into one large display as a video wall.
Transmits True 4K Video and Digital Audio
The HDMI and DP outputs support true 4K resolutions up to 4K x 2K (4096 x 2160) at 60 Hz. The VGA output supports HD resolutions up to 1920 x 1080 (1080p) at 60 Hz. HDCP 2.2 compliance allows you to stream 4K Amazon and Netflix content with no complications.
USB Ports Connects Keyboards, Thumb Drives and Other USB Peripherals
Four USB-A hub ports and one USB-C port accept USB peripherals, such as flash drives, mice, keyboards, external hard drives and printers. The USB-C and two USB-A ports support fast USB 3.2 Gen 1 data transfer rates up to 5 Gbps (10 times faster than USB 2.0) and are backward compatible with USB 2.0 and USB 1.1 devices. The other two USB-A ports support USB 2.0 speeds of 480 Mbps.
Accesses a Wired Gigabit Ethernet Network
The RJ45 port offers access to a Gigabit Ethernet network when no Wi-Fi is available or when a wired connection offers faster speeds. Connect using a UTP cable (sold separately), and enjoy true 10/100/1000 Mbps Ethernet speeds for fast data transfers.
Connects Stereo Audio Equipment for Recording and Playback
This Thunderbolt 3 docking station offers two 3.5 mm mini stereo jacks, convenient for connecting speakers, headphones or a microphone to your workstation. You can listen to music and record the latest episode of your podcast.
Included Thunderbolt 3 Cable Attaches in Either Direction
Unlike traditional USB cables that connect in only one direction, the reversible Thunderbolt 3 male connector plugs into its port in either direction for an instant connection every time.
Ready to Use Right from the Package, So You Can Plug and Play Immediately
The plug-and-play Thunderbolt 3 dock is specifically designed for use with the MacBook Pro and other notebook computers equipped with a Thunderbolt 3 port. It requires no extra software to download and install. The included external power supply provides up to 20V 3A (60W) to charge and power the connected source device. The docking station is slightly larger than a typical smartphone, making it easy to pack into a backpack or laptop bag for multiport convenience wherever you go.
Source device with Thunderbolt 3 port that supports USB DisplayPort Alternate Mode and DisplayPort MST Mode (see owner's manual for details)
Display device(s) with HDMI, VGA or DisplayPort input*
*Both HDMI and DisplayPort outputs can transmit 4K video simultaneously. See owner's manual for details.
MTB3-DOCK-02 Thunderbolt 3 Dock, Dual Display, Black
Thunderbolt 3 cable (M/M), 1.6 ft.
External power supply (Input: 100–240V, 50/60 Hz, 3.0A; Output: 20V 6A)
C13 to NEMA 5-15P Adapter, 4 ft.
Owner's manual
OVERVIEW
| | |
| --- | --- |
| UPC Code | 037332248459 |
| Product Type | Docking Station |
| Technology | DisplayPort; HDMI; Thunderbolt; USB 2.0 (High Speed); VGA/SVGA |
| Host Connector | THUNDERBOLT 3 (Type-C MALE) |
VIDEO
Number of Monitors Supported
2
Video Ports
DISPLAYPORT (FEMALE); HDMI (FEMALE); HD15 (FEMALE)
Video Ports Details
DisplayPort 1.2; HDMI 2.0; HDCP 1.4; HDCP 2.2
Resolutions Supported

DisplayPort: 4K 60Hz (3840 x 2160)

HDMI: 4K 60Hz (3840 x 2160)

VGA: 1920 x 1200 60Hz

Max Supported Video Resolution
DisplayPort: 4096 x 2160 (4K x 2K) @ 60 Hz; HDMI: 4096 x 2160 (4K x 2K) @ 60 Hz; VGA: 1920 x 1080 @ 60 Hz
Extended Mode
Yes
Extended Mode Details

1x DP (4K 60Hz) + 1x HDMI (4K 60Hz)

1x DP (4K 60Hz) + 1x VGA (1080p)

Mirror Mode
Yes
Mirror Mode Details

1x DP (4K 60Hz) + 1x HDMI (4K 60Hz)

1x DP (1080p) + 1x VGA (1080p)

Max Supported Color Depth
36-bit Deep Color
HDR Support
No
Chroma Sub Sampling
4:4:4
AUDIO
| | |
| --- | --- |
| Audio Ports | (2) 3.5MM (FEMALE) |
| Audio Ports Details | Separate 3.5 mm mini stereo jacks for speakers and microphone |
DATA
| | |
| --- | --- |
| Data Ports | (1) USB C (FEMALE); (4) USB A (FEMALE) |
| Data Ports Details | (1) USB-C - USB 3.2 Gen 1 (5 Gbps); (2) USB-A - USB 3.2 Gen 1 (5 Gbps); (2) USB-A - USB 2.0 |
NETWORK
| | |
| --- | --- |
| Network Ports | RJ45 (FEMALE) |
INPUT
| | |
| --- | --- |
| AC Power Adapter Plug(s) | NEMA 5-15P North America |
| AC Power Adapter Input Specs (V / Hz / A) | 100-240V / 50/60Hz / 3.0A |
| AC Power Adapter Output Specs (V / A) | 20V / 6A |
| AC Power Adapter Cord Length (ft.) | 4 |
| AC Power Adapter Cord Length (m) | 1.2 |
| Maximum Input Amps | 3 |
| Voltage Compatibility (VAC) | 100; 110; 120; 125; 127; 200; 208; 220; 230; 240 |
BATTERY
| | |
| --- | --- |
| Battery Charging (5V/1.5A Port) | No |
POWER
| | |
| --- | --- |
| AC Adapter | Input: 100–240V, 50/60 Hz, 3.0A; Output: 20V, 6A |
| DC Barrel Plug | OD: 4.5 x 0.6 x 10.5mm, Positive Pin, Negative Sleeve |
| USB Power Delivery (PD) Charging Support | No |
USER INTERFACE, ALERTS & CONTROLS
| | |
| --- | --- |
| LED Indicators | White (Connection to Power) and Orange (Activity) |
CHARGING
| | |
| --- | --- |
| Total Charging Watts | 60 |
| Charging Ports | Supports 60W (20V 3A) Power to Host Computer |
| Charging Ports / Amps | 3A |
PHYSICAL
| | |
| --- | --- |
| Color | Gray |
| Material of Construction | Aluminum, Zinc Alloy |
| Shipping Dimensions (hwd / in.) | 2.50 x 10.43 x 7.09 |
| Shipping Weight (lbs.) | 1.30 |
| Unit Dimensions (hwd / in.) | 0.870 x 7.760 x 3.350 |
| Unit Packaging Type | Box |
| Unit Weight (lbs.) | 0.948 |
ENVIRONMENTAL
| | |
| --- | --- |
| Operating Temperature Range | 32 to 113°F (0 to 45°C) |
| Storage Temperature Range | 32 to 158°F (0 to 70°C) |
| Operating Humidity Range | 10% to 85% RH, Non-Condensing |
| Storage Humidity Range | 5 to 90% RH, Non-condensing |
| Power Provided to Connected Device(s) | 20V/3A (60W) to Host Device |
COMMUNICATIONS
| | |
| --- | --- |
| Network Compatibility | 1 Gbps (Gigabit) |
| IEEE Standards Supported | 802.3ab |
CONNECTIONS
| | |
| --- | --- |
| Number of Ports | 13 |
| Dock Connectors | DISPLAYPORT, HDMI, VGA, RJ45, (2) USB-A 3.0, (2) USB-A 2.0, (2) 3.5MM, USB-C, TB3 USB-C |
| Side A - Connector 1 | THUNDERBOLT 3 (Type-C FEMALE) |
| Side A - Connector 2 | (2) USB 3.0 A (FEMALE) |
| Side A - Connector 3 | USB C (FEMALE) |
| Side B - Connector 1 | DISPLAYPORT (FEMALE); HD15 (FEMALE); HDMI (FEMALE) |
| Side B - Connector 2 | RJ45 (FEMALE) |
| Side B - Connector 3 | (2) USB A (FEMALE) |
| Side B - Connector 4 | (2) 3.5MM (FEMALE) |
| Connector Plating | Nickel |
FEATURES & SPECIFICATIONS
| | |
| --- | --- |
| USB Hub Ports | Yes |
| Number of USB Hub Ports | 5 |
| USB Specification | USB 2.0 (up to 480 Mbps); USB 3.0 (up to 5 Gbps) |
| UASP Support | No |
| Auto MDIX Support | No |
| Full Duplex Support | No |
| Suspend Mode Support | No |
| Remote Wakeup Support | No |
| Thunderbolt Specification | Thunderbolt 3 (up to 40Gbps short or active cables) |
| Displayport Specification | 1.2 |
| HDCP Specification | 2.2 |
| Driver Required | No |
| Recommended Category Cable | Cat5/Cat5e/Cat6 Cables |
STANDARDS & COMPLIANCE
| | |
| --- | --- |
| External Power Supply Certifications | CCC; CE; GS; PSE; TUV; UL; cUL |
| Product Compliance | RoHS; REACH; FCC (USA) |
WARRANTY & SUPPORT
| | |
| --- | --- |
| Product Warranty Period (Worldwide) | 3-year limited warranty |