Product Status
Discontinued on 8/22/2022
USB-C Cable (M/M), USB 2.0, 3A Rated, USB-IF Certified, 3 ft. (0.91 m)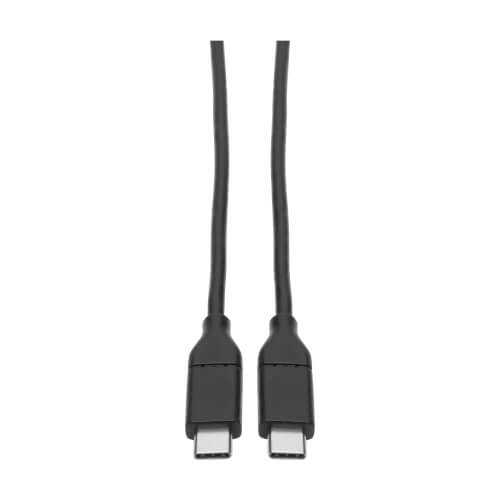 ---
USB-C to USB-C Cable Connects 2 USB-C Devices, Including MacBooks and Smartphones
This three-foot USB Type-C to Type-C cable allows you to connect one USB-C device to another. For instance, a laptop to a docking station, your smartphone to a wall charger, or a hard drive or flash drive to a computer or tablet. The USB-C to C is compatible with any device with a USB-C or Thunderbolt 3 port, including MacBooks, Ultrabooks and Chromebooks.
PD Charging Cable Charges Devices and Transfers Data at USB 2.0 Speeds
The Power Delivery cable supports USB 2.0 data transfer rates up to 480 Mbps. It also provides power output up to 3 amps (60 watts), which is sufficient for fast-charging, syncing and powering compatible devices. The USB Type-C to Type-C cable is backward compatible with previous USB generations, allowing you to use it with older equipment.
Reversible USB-C Connectors Attach in Either Direction
Unlike traditional USB cables that connect in only one direction, the reversible USB-C male connectors plug into a USB-C or Thunderbolt 3 port in either direction for a fumble-free connection every time.
USB-IF Certification Ensures Rigorous Testing and Top-of-the-Line Performance
This cable meets the high standards of USB-IF (USB Implementers Forum, Inc.), a non-profit organization consisting of companies that developed the USB specification. Receiving USB-IF certification means the U040-C03-C meets the industry's highest environmental, mechanical and electrical standards. It operates with your USB peripherals, adapters and cables with top efficiency and safety.
Devices with USB-C or Thunderbolt 3 ports
U040-C03-C USB-C to USB-C Cable, USB-IF, M/M, 3 ft.
OVERVIEW
| | |
| --- | --- |
| UPC Code | 037332214959 |
| Technology | USB 2.0 (High Speed) |
| Cable Type | Passive |
PHYSICAL
| | |
| --- | --- |
| Material of Construction | PVC |
| Cable Jacket Color | Black |
| Cable Jacket Rating | VW-1 |
| Cable Outer Diameter (OD) | 3.8MM |
| Cable Length (ft.) | 3 |
| Cable Length (in.) | 36 |
| Shipping Dimensions (hwd / in.) | 9.00 x 7.00 x 0.50 |
| Shipping Weight (lbs.) | 0.07 |
| Unit Packaging Type | Polybag |
ENVIRONMENTAL
| | |
| --- | --- |
| Operating Temperature Range | 14 to 140 F (-10 to 60 C) |
| Storage Temperature Range | -4 to 158 F (-20 to 70 C) |
| Relative Humidity | 10% to 85% RH, Non-Condensing |
CONNECTIONS
| | |
| --- | --- |
| Side A - Connector 1 | USB C (MALE) |
| Side B - Connector 1 | USB C (MALE) |
| Connector Plating | Nickel |
| Contact Plating | Gold |
FEATURES & SPECIFICATIONS
| | |
| --- | --- |
| USB Specification | USB 2.0 (up to 480 Mbps) |
STANDARDS & COMPLIANCE
| | |
| --- | --- |
| Product Certifications | USB-IF |
| Product Compliance | RoHS; CE (Europe); REACH; FCC (USA) |
WARRANTY & SUPPORT
| | |
| --- | --- |
| Product Warranty Period (Worldwide) | Lifetime limited warranty |