Instantly Connect 10 Gb Equipment to 40 Gb Switches
Pre-Assembled, Self-Contained Patch Panels Offer a Hassle-Free Alternative to Breakout Cables
---
Eaton's All-in-One Breakout Fiber Patch Panels offer a simple, cost-effective alternative to breakout cables. With built-in MTP cables and pre-installed cassettes, these self-contained patch panels come ready for action right out of the box. Simply connect the 2-meter cables to ports on a 40 Gb switch, then add high-quality, off-the-shelf duplex LC cables to connect your 10 Gb devices to the breakout panel's front ports.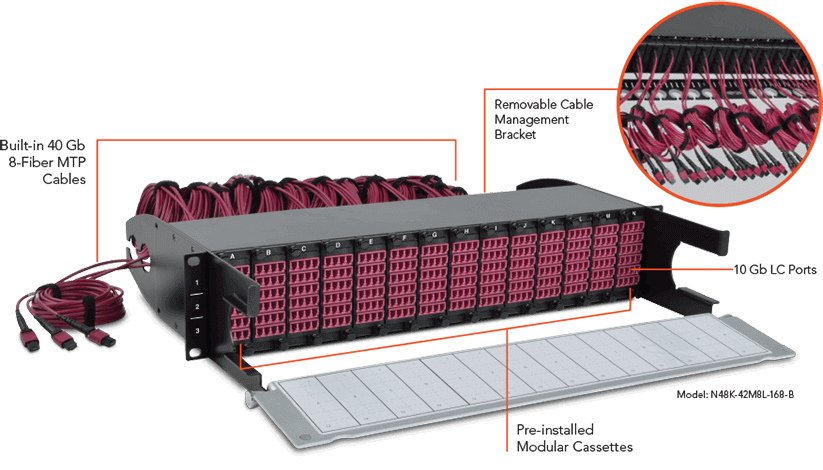 ---
Key Benefits of Eaton's N48K-Series Breakout Fiber Patch Panels:
Ease of installation: Built-in MTP cables for quick and easy deployment
Manageability: Self-contained design for organization and reduced clutter
Flexibility: Modular components for easy cassette changes
Scalability: Designed to accommodate future growth
Compatibility: Integrate seamlessly with switches from a wide variety of manufacturers*
* N48K-Series Breakout Fiber Patch Panels are perfect for use with the following 40 Gb switches: Arista Series 7500, 7300, 7280, 7250X and 7060X; Brocade Series VDX, ICX and DCX; Cisco Series 9000, 7000, 6000, 5000 and 3000; and Dell Series Z and S.
---
Breakout Cabling Solution vs. Eaton All-in-One Breakout Fiber Patch Panel Solution
Breakout Cabling Solution
Forces installer to use custom cables, which are more expensive and require longer lead times between order and delivery.
All cables are of unique lengths, and nothing is standard.
Cabling is complex, hard to manage, and does not scale well to high-density installations.
Because every cable is custom-made, even simple changes are not simple.
Results

Eaton Breakout
Fiber Patch Panel Solution
Allows installer to use standard cables for fast, simple installations.
Breakout functionality is built directly into the solution so everything is standard.
Reduced clutter simplifies cable management, even in high-density installations.
Modular components add flexibility to the application, making it scalable for future expansion.
Results

Find Your All-in-One Fiber Patch Panel