Power over Ethernet, or PoE, allows both data and power to be delivered over an Ethernet cable. By eliminating the need for separate electrical wiring, PoE reduces the time, complexity and costs associated with powering a variety of networked devices.

Powered Device (PD) – A device that receives power through the Ethernet cable. Examples include security cameras, wireless access points, VoIP phones, sensors, etc.
Power Sourcing Equipment (PSE) – The device supplying power to the Ethernet cable:
PoE-Capable Network Switches (Endspans) deliver power and data to PDs
Power Injectors (Midspans) are placed between non-PoE switches and PDs
---
Types of PoE Devices
Powered Devices (PD) - Any PoE-compliant device that can be powered through its RJ45 network port is referred to as a Powered Device or PD for short. The number of installed PDs is growing at approximately 12% per year, with the scope of applications expanding rapidly in areas such as video-conferencing, smart buildings, sensor networks, point of sale (PoS) and digital signage. Currently, high demand for PoE security cameras from commercial and industrial users is driving market growth. However, PoE LED lightning is expected to boost market adoption thanks to some compelling benefits, including lighting control, integration with other devices, ease of installation and operational cost savings.
PoE Extenders – The maximum length of an Ethernet cable is 100 meters (328 ft.) but this can easily be extended using a hub or switch. In PoE applications, an extender is used to "repeat" both the data and power, extending the cable run another 100 meters. This can be done a number of times before power degrades below the requirements of the PD. Ruggedized PoE Extenders are available for industrial and manufacturing applications, such as Eaton's water resistant Gigabit PoE+ Extender (Part Number NPOE-EXT-1G30WP).

PoE Splitters – To power a non-PoE device, a splitter draws power from the Ethernet cable and passes it to the device via its power port.

PoE Injectors - Use a PoE injector (also called a midspan) to add a PoE device to a non-PoE network. This is generally a more cost-effective solution than adding a PoE switch or running AC power to the point of installation. Products like Eaton's PoE+ injector (Part Number NPOE-30W-1G) support 30W of power to a PoE device on a Gigabit network.

Media Converters – Transparently convert fiber to copper and provide power to PoE-compliant devices such as IP cameras, VoIP phones and wireless access points. A media converter is a type of PSE (it requires an AC power source) and is typically used when extending a data network beyond the limits of Ethernet.

Power-over-Ethernet Standards
The Institute of Electrical and Electronic Engineers (IEEE) released the first Power over Ethernet (PoE) standard in 2003, establishing common guidelines for the delivery of power over an Ethernet network. PoE provided compelling benefits over conventional AC power, including easy installation, increased safety, reduced capital expenditures and lower operating costs, paving the way for rapid adoption.
Specification
Commonly Known As
Class
Minimum PSE Output Power
Minimum PD Input Power*
Type 1
IEEE 802.3af
PoE
Class 1
4W
3.84W
Class 2
7W
6.49W
Class 3
15.4W
12.95W
Type 2
IEEE 802.3at
PoE+
Class 4
30W
25.5W
Type 3
IEEE 802.3bt
PoE++
4PP0E
Cisco UPoE
Class 5
45W
40W
Class 6
60W
51W
Type 4
IEEE 802.3bt
Class 7
75W
62W
Class 8
90W
71.3W
IEEE 802.3bt is the latest iteration of the standard and pushes the power level of Power Sourcing Equipment (PSEs) to 90 watts by utilizing all four pairs of the category cable. The higher power levels enable new PoE applications, such as PTZ cameras, thin clients, LED lighting and building automation.
How PoE Works
A PSE leaves its ports unpowered and periodically checks to see if anything has been connected, a process known as Signature Detection. Signature detection uses low voltage to detect the "signature" of a PD. The voltage is low enough not to damage a non-PoE device. Once a PD's signature has been detected, the PSE knows the amount of power that can be safely supplied.
Power Classification is an optional step that follows Signature Detection. If a PD provides one of eight possible classification signatures (see table above), the PSE knows how much power the device requires. If no classification signature is provided, the PD is considered Class 0 and 12.95W is allocated.
A PSE continues to monitor power delivered to each connected PD. If a PD stops drawing power, the PSE assumes it was disconnected and stops supplying power. This raises the question, what if the PD has a sleep or local off mode? An example might be an LED light, which can be automatically turned off at night but must remain powered so it can sense motion and turn on. The Maintain Power Signature (MPS) is a signature presented by the PD, reassuring the PSE that it is still present even though it is not drawing the full operating voltage.
A PSE is typically limited in the total amount of power it can supply to connected PDs. This maximum available power is called the Power Budget and must be shared by all connected devices. Allocating the Power Budget based on the maximum power draw of each PD can result in inefficiencies. The latest IEEE 802.3bt standard introduces a new feature called Autoclass, which allows a PSE to measure the actual power needed by each PD and dynamically optimize the allocation of the power budget across multiple ports, potentially saving energy or allowing more devices to be connected.
Choosing Cable for PoE Applications
The IEEE P802.3bt standard recommends a minimum of Class D Cat5e cabling. For new installations, use Cat6a as it allows for larger bundle sizes. If the cable run is greater than 50 feet, use cable with solid 23 AWG conductors.
UL Limited Power (LP) Certification
The IEEE 802.3bt standard specifies two new levels of Power over Ethernet: Type 3 (60W) and Type 4 (100W). These higher power applications generate more heat, particularly when cables are bundled. To address this concern, Underwriters Labs (UL) have introduced a Limited Power (LP) Certification to simplify cable selection. The LP certification means the cable has been tested in situations that might result in higher temperatures, such as large bundles, high ambient temperatures and enclosed spaces or conduits. LP certified cable (look for a cable rating of CMR-LP) can carry the current indicated without exceeding the temperature rating of the cable.
POWER OVER ETHERNET SWITCHES
What is a PoE Switch?
In addition to regular switching functions such as receiving and forwarding data to devices on an Ethernet network, a PoE switch provides power through its RJ45 ports. The amount of power depends on the PoE standard the switch supports (see table above) and its PoE Budget. PoE standards define the maximum watts per port. The PoE Budget is the total amount of power the switch can supply through its ports. Note that a PoE switch provides power, it is not itself powered by the PoE network. That job is usually left to an Uninterruptible Power Supply (UPS) that ensures the quality and continuity of power to the switch.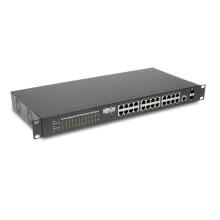 Power-over-Ethernet Q&A
Can I connect non-POE devices to a switch's POE ports?
Yes, you can. PoE switches have auto-sensing PoE ports. This means that the PoE port will detect if the connected device is a PoE device or not. If you plug a Wireless Access Point (WAP) into a port on a PoE switch, the switch and the WAP will negotiate power delivery. If you plug a laptop into a PoE switch, the laptop will not identify itself as a PoE device and no power will be delivered.
What is the difference between PoE and PoE+?
PoE is the 802.3af standard, and PoE+ is the 802.3at standard. The main difference between the 802.3af (PoE) and 802.3at (PoE+) standards is the maximum amount of power they can deliver over the Ethernet network. The maximum amount of power for the 802.3af (PoE) standard is 15.4 watts. The maximum for the 802.3at (PoE+) standard is 25.5 watts.
Products Mentioned in this Article