What is a network switch and what does it do?
A network switch connects devices to a local area network (LAN) and allows the devices to communicate over the network. For example, you can connect computers, printers and servers to the same network switch and route data between them. Unlike an Ethernet hub, which transmits the same data through every output, a network switch sends data only to the devices designated to receive it. This improves the efficiency and potential throughput of the network.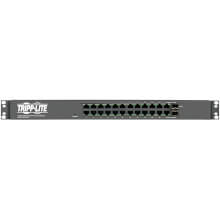 Are there different types of network switches?
There are two main types of network switches, unmanaged and managed. The essential difference is the capability to configure the operation of a managed switch to customize and optimize network traffic for specific applications.
Unmanaged Switches
Offer plug-and-play functionality
Switch operation cannot be modified
Eaton offers desktop and rack-mount unmanaged switches
Managed Switches
Provide the ability to manage, prioritize and monitor LAN traffic
Offer one or more ways to modify switch operation
Eaton offers smart managed switches that feature an RJ45 console port and command line interface (CLI)
Where do you place network switches?
Network switches are usually placed on a desk or table, mounted on a wall, or mounted in a rack. Eaton offers unmanaged desktop switches (with metal or plastic housing) and both unmanaged and managed rack-mount switches with metal housing and a built-in PDU (Gigabit Ethernet Switch PDU Combos).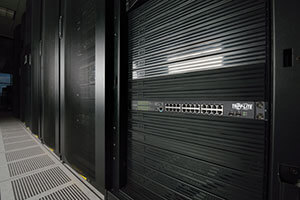 What is a Gigabit Ethernet Switch PDU Combo?
Eaton offers an exclusive line of unmanaged and managed Gigabit Ethernet switches that have a built-in network-grade PDU. These Gigabit Ethernet Switch PDU Combos mount in just 1U of rack space, making them suitable for wall-mount rack cabinets and other compact installations. The units have up to 24 Gigabit Ethernet ports and up to 12 NEMA 5-15R outlets with options for SFP uplink ports and Power over Ethernet (PoE). The PDU outlets on the managed switch units have Isobar® surge protection.

Factors to Consider
Does your application require a managed switch?
If your application involves controlling network traffic, you will need the features of a managed switch. The following are some examples of tasks that require a managed switch:
Controlling access between departments within your LAN
Running many bandwidth-intensive applications simultaneously
Giving important data greater priority in your LAN
Improving the performance of a busy network
Implementing VoIP, wireless LANs or other advanced services
How many devices do you need to connect to your network?
Make sure you select a switch with enough Gigabit (10/100/1000 Mbps) Ethernet ports for the devices you want to connect to your network. If you think you'll add more devices in the future, choose a switch that will give your network room to grow.

Do you need to connect multiple network switches?
If you plan to connect multiple network switches, look for models with SFP uplink ports (also known as Mini-GBIC ports). SFP uplink ports are connection points for SFP (small form-factor pluggable) modules that allow the switch to uplink to other switches using optical fiber cabling.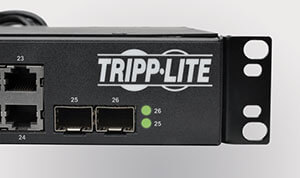 Do you need the capability to power devices?
Power over Ethernet (PoE) uses existing network cables to power connected devices, such as VoIP phones, wireless access points and surveillance cameras. If you need this functionality, look for a switch with Gigabit Ethernet ports that support PoE. Make sure the power per port (in watts) and the total power budget of the PoE ports meet the needs of your electronic devices.

Eaton Network Switches
Unmanaged Switches
Unmanaged Switches
with Built-In PDU
Managed Switches
with Built-In PDU
Gigabit (10/100/1000 Mbps) Ethernet Ports
5, 8, 16, 24
16 or 24
16 or 24
SFP/Mini-GBIC ports for optical network uplink to additional switches

PoE capability

RJ45 console port and command line interface (CLI)

Automatic MDI/MDIX crossover detection to eliminate need for crossover cables

Store-and-forward switching

MAC address table

Support for jumbo frames

Support for quality of service (QoS) to prioritize traffic

Support for virtual LANs (VLANs) to isolate traffic between groups

Support for spanning tree protocol (STP) to provide path redundancy

Web-based graphical user interface (GUI) for built-in management software

Built-in 120V PDU

Built-in 120V PDU with Isobar® surge protection

Desktop models (metal or plastic housing)

1U rack-mount models (metal housing)

External or internal power supply
Depends on model
Internal
Internal
Meet IEEE standard 802.3az for energy-efficient Ethernet
All Models in this Product Family have this feature
Some Models in this Product Family have this feature