Certain environments require extra protection for rackmounted equipment. Whether your venue is earthquake-prone or subject to regular vibration, such as an airport or factory, a seismic enclosure may be the answer for keeping equipment safe.
Testing Procedure
Eaton Seismic Cabinets are performance-tested to EIA-310-E, Seismic Zone 4 (NEBS GR-63-CORE) standards. The enclosures are loaded with simulated equipment and placed on a shaker table designed to replicate the force of an earthquake. Various configurations and force directions (e.g. side-to-side, front-to-back) are tested to ensure that the heavy-duty steel welding is up to its task. To pass the test, the enclosure must meet displacement* requirements of less than 3 inches and emit no resonant frequency below 6 Hz. A test is considered to be successful if the enclosure's welding is intact and the equipment within the enclosure is unharmed.
* Displacement refers to the distance the enclosure moves from its initial position during testing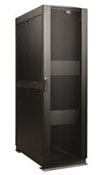 SR42UBZ4
The SR42UBZ4 is designed for use in earthquake zones. The enclosure features a heavy-duty welded construction, providing more security for use in unstable environments. Reinforcing Zone 4 Seismic Brackets offer enhanced stability and protection with a Zone 4 seismic rating.