Thunderbolt 4 Explained

The often confusing world of computer connectivity is now a two horse race, Thunderbolt 4 and USB4, and Thunderbolt has its nose in front. That's because Thunderbolt 4 is built on top of the upcoming USB4 standard and backward compatible with prior generations of Thunderbolt and USB products. We explain the Thunderbolt 4 standard and what you can expect from Thunderbolt 4-compatible products.

What is Thunderbolt?
Thunderbolt is a connectivity protocol supporting fast data transfer, high-resolution video and charging, all at the same time. While earlier generations of the Thunderbolt standard used a Mini DisplayPort connector, Thunderbolt 3 and Thunderbolt 4 use the more capable USB-C connector.
What is Thunderbolt 4?
Promoted by Intel as a universal connectivity experience, Thunderbolt 4 (TB4) is a "superset standard" incorporating USB4, DisplayPort and PCI Express (PCIe). In terms of performance, Thunderbolt 4 isn't all that different from its predecessor. The big difference is that laptop, peripheral and cable makers must meet more stringent standards for Thunderbolt 4 certification so buyers can be confident that, at a minimum, they will get the following features:
40Gb/s data transfer speed over cables of up to 2 meters (6.5 feet) in length
32 Gb/s PCIe data transfer (twice that of Thunderbolt 3)
Support for two 4K displays (or one 8K display)
At least one port supporting 100W laptop charging
Wake from sleep support
Thunderbolt 4's support for USB4 promises to bring some order to the fragmented world of USB cables and devices. A Thunderbolt 4-enabled laptop or dock will accept Thunderbolt 4, Thunderbolt 3, USB4, USB 3.x and USB 2.0 devices.
Is Thunderbolt 4 the same as USB-C?
No. USB-C (or USB Type-C) is a physical connector for transmitting data, video and power. Confusion arises because the Thunderbolt and USB standards both use the USB-C connector but have different data, video and power capabilities.




Thunderbolt ports and connectors are marked with the "lightning bolt" logo and will sometimes include the version of the Thunderbolt standard they support.
Thunderbolt 3 vs. 4
Thunderbolt 4
Thunderbolt 3
USB4
USB 3.2
Data Transfer
40 Gbps
40 Gbps
20 Gbps/40 Gbps
20 Gbps
Video
Two 4K Monitors
One 8K Monitor
Two 4K Monitors
One 5K Monitor
Two 4K Monitors
One 8K Monitor
One 4K Monitor
Power/Charging
Up to 100W
Up to 100W
Up to 100W
Up to 100W
Daisy-Chaining
Yes (up to 6 devices)
Yes (up to 6 devices)
No
No
Cable Length*
2m
0.5m
0.8m
1m
Connector
USB-C
USB-C
USB-C
USB-C
Can I plug a USB-C cable into a Thunderbolt 4 port?
Yes, Thunderbolt 4 ports will accept any cable with a USB-C connector. However, to get the benefit of Thunderbolt performance, you need to connect one Thunderbolt device to another, such as a Lenovo Yoga 9i laptop to a Thunderbolt-enabled monitor or dock.
Can I plug a USB-C device into a Thunderbolt 4 port?
Yes, a Thunderbolt port will negotiate data rate, power and video capabilities with the connected device and "fallback" to the USB protocol if the device is not Thunderbolt-enabled. This fallback mode also allows a Thunderbolt device to be connected to a non-Thunderbolt USB-C port and still function, albeit at a USB3 level.
Is a Thunderbolt monitor different from a USB-C monitor?
Yes, a Thunderbolt monitor has a USB-C Thunderbolt port. Thunderbolt lets you daisy-chain two 4K monitors, so at least one monitor will need two Thunderbolt ports, one for the signal from the host computer and the second to relay the video to the second monitor. A monitor with a Thunderbolt port can also charge a higher wattage device like a laptop.
Thunderbolt: A Brief History
Intel introduced Thunderbolt in 2009 under the code name Light Peak. Originally designed as an optical interface, a copper-based version was co-developed by Apple and Intel and incorporated into the 2011 MacBook Pro with a Mini DisplayPort connector. The copper-based Thunderbolt ports and cables were just as fast as optical, less expensive to produce, and capable of delivering up to 10W of power to connected devices.
Thunderbolt Specs
Connector
Video
Data Rate*
Power
Max. Cable Length
Thunderbolt 1
Mini DisplayPort
2560 x 1600 (single display)
2 x 10 Gbit/s
10W
3m
Thunderbolt 2
Mini DisplayPort
4K (single display)
2560 x 1444 (dual display)
20 Gbit/s
10W
3m
Thunderbolt 3
USB-C
4K @ 120 Hz (single display)
5K @ 60 Hz (single display)
4K @ 60 Hz (dual display)
40 Gbit/s
100W
0.5m (passive)
2m (active)
Thunderbolt 4
USB-C
8K @ 60 Hz (single display)
4K @ 60 Hz (dual display)
40 Gbit/s
100W
2m
THUNDERBOLT CABLES AND CONNECTORS
The capabilities of USB-C cables can vary so it's important to know what you are buying. Although Thunderbolt and USB ports both accept USB Type-C cables, only cables specifically designed for Thunderbolt can be used for Thunderbolt connections. Thunderbolt cables can also be used for full-featured USB connections, making them a good choice for a universal cable that will work with any USB-C port.
Thunderbolt cables provide four shielded SuperSpeed pairs known as "lanes" (see highlighted pins in Figure 1 below), each capable of carrying packets of data at 20 Gb/s.


A Thunderbolt port dynamically detects the capabilities of cables and devices plugged into it and activates one (or a combination) of five connection modes:
USB Only Mode: for USB devices or cables that do not support Thunderbolt, the Thunderbolt port activates the USB controller to support USB 3.x or 2.0 signaling.
Thunderbolt Alt Mode: When a Thunderbolt cable and device are connected, the Thunderbolt controller bonds two lanes in each direction to create two full duplex, bidirectional 40 Gb/s channels.


DisplayPort Alt Mode: when a DisplayPort monitor or adapter is plugged into Thunderbolt port, the controller activates DisplayPort Alt Mode, remapping all four USB-C lanes to work in one direction, creating a single 80 Gb/s link sufficiently fast to drive an 8K HDR2 display.


USB/DP Combo Mode: a combination of the USB and DP modes described above, the Thunderbolt port will share the four USB-C lanes between DisplayPort and USB.
Thunderbolt Networking Mode: allows two or more Thunderbolt-enabled computers to establish a direct Ethernet connection to share resources, and copy, transfer or print files.
Power Delivery and Charging: power and charging of host and connected devices is supported by USB-PD, in addition to the 15W available to bus powered peripherals.
Passive vs. Active Cables
Thunderbolt 3 cables come in two varieties: passive and active. A passive cable transmits electrical signals over copper wire without any intervention to boost the signal. An active cable uses transceivers on either end to regulate the data transfer over the cable, allowing it to transmit over longer distances.
A passive Thunderbolt 3 cable can only transmit at the full 40 Gb/s data rate over a distance of 0.5 m (18 inches). At 2 meters, a passive cable will limit data transmission to 20 Gb/s. For the maximum 40 Gb/s throughput up to 2 meters, you'll need an active Thunderbolt 3 cable.
With the introduction of Thunderbolt 4, passive cables will be able to transmit up to 2 m at 40 Gb/s.
Examples of Passive and Active Thunderbolt Cables
(Notice the slightly longer connectors on the active cable, which house the signal regulating chipset)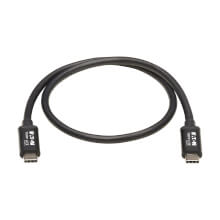 Passive Thunderbolt 3 Cable
40 Gb/s data transfer rate
5A 100W Power Delivery
4K/60 Hz
0.5 m (1.6 ft.)
Model Number: MTB3-00M5-5A-B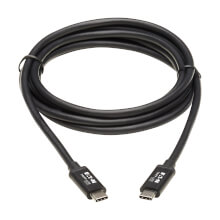 Passive Thunderbolt 3 Cable
20 Gb/s data transfer rate
5A 100W Power Delivery
4K/60 Hz
2 m (6.6 ft.)
Model Number: MTB3-02M-5A-B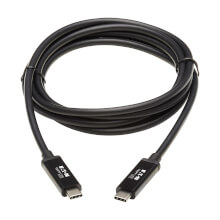 Active Thunderbolt 3 Cable
40 Gb/s data transfer rate
5A 100W Power Delivery
4K/60 Hz
2 m (6.6 ft.)
Model Number: MTB3-02M-5A-AB
THUNDERBOLT CAPABILITIES
Data Transfer
Thunderbolt 4 has a maximum bandwidth of 40 Gb/s. However, this is a bit misleading because not all of that bandwidth can be used for data transfer. Approximately 8 Gbp/s can only be used for video, leaving 32 Gb/s for non-video data (PCIe 3.0: 4 lanes x 8 Gb/s). Further accounting for PCIe 8b/10b encoding and TB4's own overhead, you arrive at a peak data throughput of approximately 22 Gb/s. Not 40 Gb/s but not slow either.
High data transmission rates like these enable new applications, such as solid state drive (SSD) storage arrays and external graphics cards (eGPUs).
Why am I not getting the full 40 Gbp/s speed from my Thunderbolt 4 connection?
Here are a few things to check:
Does the USB-C port have the "lightning bolt" logo? If not, it might be a slower USB port.
Is the peripheral (monitor, dock, storage) Thunderbolt 4 enabled? If it's a USB device, Thunderbolt will "fallback" to USB speeds.
Are there other devices connected to the TB4 port? Devices share available bandwidth. For example, a 4K display will consume around 14 Gb/s leaving 26 Gb/s for non-video data.
Video
Thunderbolt 4 includes support for DisplayPort 2.0, allowing it to power up to three 10K monitors at the same time, or one 16K monitor at 60Hz. Thunderbolt 3 supports DP 1.4 and has enough bandwidth to support two 4K (3840 x 2160) displays at 60 Hz, a single 4K at 120 Hz or a single 5K display at 60 Hz.
Networking
Thunderbolt Networking allows peer-to-peer communication between two or more computers through a Thunderbolt cable. This is useful for resource sharing and moving large amounts of data between computers.
Power and Charging
Thunderbolt 3 supports USB Power Delivery (PD), allowing a TB3 port to send or receive up to 100W of power, which for some devices may eliminate the need for a separate AC power adapter. However, not all device manufacturers support USB-PD. Thunderbolt 3 can also provide 15W to connected bus-powered devices, such as external hard drives, cameras and portable monitors. This is also enough to charge a tablet or smartphone.
WHAT CAN YOU DO WITH THUNDERBOLT 4?
Multiple Monitors
If your laptop has a Thunderbolt 3 or Thunderbolt 4 port, you have a few options.
Daisy-Chaining – Thunderbolt lets you connect a Thunderbolt-enabled monitor to the laptop's Thunderbolt port and a second monitor to the first via a Thunderbolt cable. To do this, your graphics card needs to support Multi-Stream Transport (MST). Daisy-chaining isn't limited to monitors, either. You can include external storage and other laptops in the chain, up to 6 devices in total. Bonus! Thunderbolt is bidirectional so while your laptop is sending a video signal to an external monitor, the monitor can send power back to charge your laptop.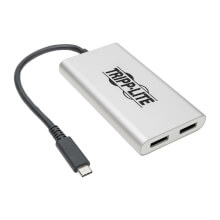 Video Adapter – use an adapter like Eaton Model Number MTB3-002-DP to connect two DisplayPort monitors to your laptop's Thunderbolt 3 port and extend your desktop. You'll get 4K (3840 x 2160) @ 60 Hz for a two screen set-up or 5K (5120 x 2880) @ 60 Hz for a single screen.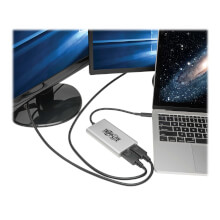 Thunderbolt Hubs & Dock – in addition to other useful features, such as connecting to an Ethernet network or accessing a flash drive, docks and hubs usually provide some video connection options. For example, Eaton's MTB4-HUB3-01 will output to two 4K @ 60 Hz monitors or an 8K monitor @ 30 Hz.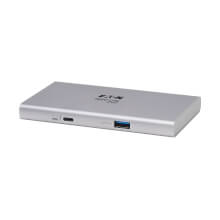 External Storage
If you regularly work with video files, or have a large library of music or photos, you might consider adding external storage to your laptop. USB 3.0 and USB 3.1 are fast enough to support an external hard disk drive (HDD) but for mass storage devices based on solid-state drives (SSD), your choices are USB 3.2 (20 Gb/s) or Thunderbolt 3 (40 Gb/s). For example, the Thunderbolt 3-compatible Samsung X5 Portable SSD supports sequential read/write speeds of 2,800/2,300 MB/s, over 20 times faster than an external HDD.
External Graphics
An external graphics card dock, also known as an eGPU, is an enclosure containing a power supply and slots for a full-size PCIe graphics card. It brings desktop-quality graphics to Windows 10 or Mac laptops, and is of particular interest to gamers, video and graphics editors. eGPUs require huge bandwidth making Thunderbolt 3 the only practical way to offload high-end graphics processing to an external device at a reasonable price. You can purchase an eGPU enclosure and add your own graphics card, or you can buy the enclosure and card as a bundle. Most eGPUs also include additional USB ports and spare slots.
Single-Cable Docking
Between power adapters, external monitors, supplemental storage and USB devices, laptop users are used to the thicket of cables connected to their machines. Thunderbolt docks offer an opportunity to simplify the situation by consolidating all connections in a single Thunderbolt cable.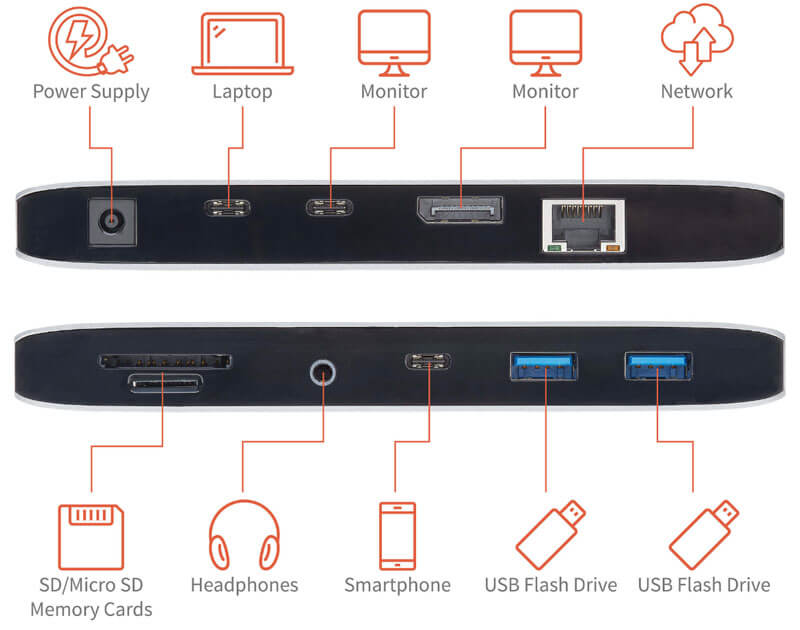 Migrating Data
Thunderbolt IP networking lets you connect two Mac or Windows computers and establish a full duplex 10 Gb Ethernet connection. If you have a Mac, you also have an option called Target Disk Mode.
Thunderbolt Bridge – Under OS X Network preferences, you'll see a network adapter called Thunderbolt Bridge. It's enabled by default but isn't active until it detects another Mac connected via Thunderbolt. On Windows, the Thunderbolt Bridge is created when the link between two machines is established and removed when unplugged.
Target Disk Mode – Originally a FireWire feature and adopted by Thunderbolt, Target Disk Mode is an easy way to migrate data from one Mac to another. TDM allows one Mac to appear as an external hard drive on another, Thunderbolt-connected Mac.
Products Mentioned in this Article
Why Buy from Eaton?
We know you have many brands to choose from. On the surface, they may all seem alike. It's what you don't see that makes the difference. With Eaton, you get solid engineering, proven reliability and exceptional customer service. All our products undergo rigorous quality control before they are offered for sale, and independent testing agencies verify our products meet or exceed the latest safety and performance standards. Our commitment to quality allows us to back our products with industry-leading warranties and responsive customer service. It's the Eaton difference.