Grow with Us
Eaton is an intelligent power management company dedicated to improving the quality of life and protecting the environment for people everywhere. We are guided by our commitment to do business right, to operate sustainably and to help our customers manage power ─ today and well into the future. By capitalizing on the global growth trends of electrification and digitalization, we're accelerating the planet's transition to renewable energy and helping to solve the world's most urgent power management challenges.
A Message from Tripp Lite's President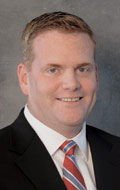 One reason Tripp Lite has been around for more than 95 years is that we've always been able to adapt our business to the evolving needs of the marketplace. When we see an opportunity to leverage our existing strengths and resources and apply them to something new, we don't allow the fear of change to stop us from pursuing success. We follow a similar approach with our workforce.
We're always ready to reward employees who have demonstrated their abilities, whether it's with opportunities to expand their responsibilities or to apply their talents and skills in another part of the company. Tripp Lite is the kind of place where the right person can start in the mailroom and end up in the boardroom.
We look forward to meeting you!
Glen Haeflinger
President