IEC (IP) and NEMA Rated Enclosures
A Guide to Server and Network Cabinet Standards
Rack enclosures are rated based on their suitability for certain applications and the degree to which they protect equipment. Each type of enclosure is given a number based on its ability to withstand environmental factors.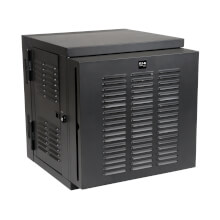 There are two main standards: NEMA (National Electrical Manufacturers Association) in the U.S., and IEC (International Electrotechnical Commission) worldwide. See the charts below for each standard's rating descriptions.

NEMA identifies enclosures with a number to represent their specific protection qualities. Note: NEMA 7, 8, 9 and 10 type enclosures are designated for use in hazardous locations. See the National Electrical Code (NEC) for more information. The table below includes a NEMA to IP cross-reference to help with product comparison.
| NEMA Rating | Protects Against | IP Equivalent |
| --- | --- | --- |
| 1 | Limited amounts of falling dirt | IP10 |
| 3 | Rain, sleet, windblown dust, and damage from external ice formation | IP54 |
| 3R | Rain, sleet, and damage from external ice formation | IP14 |
| 3S | Rain, sleet, windblown dust, and damage from external ice formation; plus provides for operation of external mechanisms when ice laden | IP54 |
| 4 | Windblown dust and rain, splashing water, hose-directed water, and damage from external ice formation | IP66 |
| 4X | Corrosion, windblown dust and rain, splashing water, hose-directed water, and damage from external ice formation | IP66 |
| 6 | Hose-directed water, entry of water due to occasional temporary submersion (depth limited) and damage from external ice formation | IP67 |
| 6P | Hose-directed water, entry of water due to prolonged submersion (depth limited) and damage from external ice formation | IP67 |
| 12 | Circulating dust, falling dirt, and dripping non-corrosive liquids | IP52 |
| 12K | Same as type 12 but with knockouts | IP52 |
| 13 | Human contact, falling dirt, circulating dust and water splashed from all directions | IP54 |

The IEC uses a two digit code to define specific protection capabilities. The first digit describes the degree of protection against access to hazardous parts and ingress of solids and the second digit describes the degree of protection against ingress of water. (e.g. An IP64 enclosure is dust-tight and is protected against splashing water in any direction.)
First Digit: IP Level of Protection (Solids)
Number
Protection Against Access to Hazardous Parts(Size of Opening)
Protection Against Ingress of Solid Foreign Objects(Size of Opening)
0
Non-protected
1
Back of hand (50mm)
≥ 12.5 mm
2
Jointed finger (12 mm x 8 mm)
≥ 50 mm
3
Tool (2.5 mm)
≥ 12.5 mm
4
Wire (1 mm)
≥ 12.5 mm
5
Wire (1 mm)
Dust-protected
6
Wire (1 mm)
Dust-tight
Second Digit: IP Level of Protection (Liquids)
Number
Protection Against Ingress of Water
0
Non-protected
1
Water dripping vertically
2
Water dripping, enclosure tilted up to 15°
3
Spraying water, up to 60° angle from vertical
4
Splashing water, any direction
5
Jetting water, any direction
6
Powerful jetting water, any direction
7
Temporary immersion in water
8
Prolonged immersion in water