HDMI Cable Buying Guide
Choosing HDMI to HDMI cords for high-definition video and audio
This buying guide will help you:
Understand HDMI cables and recognize key features
Learn the important questions to ask before selecting the best HDMI cable for your application
Find the right HDMI cable compatible with your A/V components
Compare the different types of HDMI cables
What is an HDMI Cable?
HDMI is the global standard today for high-definition video with rich stereo audio. HDMI stands for High-Definition Multimedia Interface, a standard for transmitting digital video and audio signals from a source to a display.
Common HDMI sources include:
Computers
Blu-ray™ players
Cable box and satellite receivers
Gaming consoles
Streaming sticks
Common HDMI displays include:
High-resolution TVs
Computer monitors
Projectors
Digital signs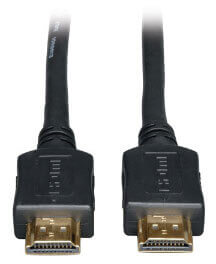 HDMI signals are transmitted digitally in an uncompressed format. The result is superior picture quality and sound. Originally developed by a consortium of electronics manufacturers, HDMI has become the de facto standard for connecting consumer audio/video components.
Laptops, PCs and computer monitors sometimes include a choice of HDMI or DisplayPort ports. For all applications up to and including 4K/60 Hz, HDMI and DisplayPort can be considered equivalent interfaces and you can use either one. If you are a gamer looking for a high-resolution image and very low latency, DisplayPort might have a slight advantage.
What Are the Different Types of HDMI Cable?
Is the cable that came with your device good enough? What about the old HDMI cord you've been using for years? That depends. Your existing cable may function with your new components, but it may not support the resolution of your display, nor other features such as HDCP.
Let's explore the different types of HDMI cables to help ensure you receive the optimal picture and sound from your A/V installation. After all, you've made the investment in quality components for your home theater, video conferencing system or digital signage installation, so you'll want ensure your HDMI cords give you the experience you're expecting.
There are currently four types of HDMI cable that differ mainly by their maximum transmission bit rate. The higher the bit rate, the more audio and video data the cable can carry. That's why the speed of the cable is an important factor in choosing the right cable because it tells you what resolution and color information it can carry. Color depth (or bit depth) is the number of bits used to indicate the color of a single pixel in an HDMI signal. More bits mean more colors, which ultimately mean a better picture.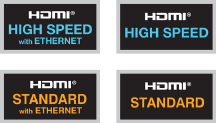 Cable Type
Marketing Name
Resolution
Color Depth**
Category 1
Standard
1080i at 60 Hz
720p at 60 Hz
True Color
(24 bpp)
Category 2
High Speed
1080p at 60 Hz
4K at 30 Hz
Deep Color
(30/36/48/64 bpp)
4K HDMI Cable
Premium High Speed HDMI Cable*
4K at 60 Hz
Category 3
8K HDMI Cable
Ultra High Speed HDMI Cable*
4K at 120 Hz
8k at 60 Hz
If you would like to learn more about the different types of HDMI cables, refer to our in-depth HDMI Technology Primer.
What Do All the Different Versions of HDMI Mean?
Like most technologies, the HDMI standard has evolved through the years. Unfortunately, the HDMI version number doesn't guarantee the component has the full feature set of that standard. Complete implementation is optional and varies by manufacturer. You should look at the specific capabilities of a component instead of its HDMI version.
For further reading on HDMI versions, see our HDMI Technology Primer.
How Do I Choose the Right HDMI Cable?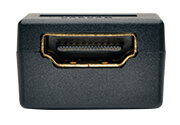 The most important factors in choosing an HDMI cable are:
Connector Type
Resolutions of your video source and display
Distance between devices
Special-Uses, such as installing the cable through walls or in moist or dusty environments
There are three types of HDMI connectors: Standard, Micro and Mini. The only real difference is size; the three connectors all function the same way.
Standard HDMI connectors are commonly found on TVs, computer monitors, gaming consoles, streaming sticks and desktop computers
Mini HDMI connectors may be found on devices like camcorders, DSLR cameras, laptops and some tablets
Micro HDMI connectors appear frequently on notebook computers, action cameras, some smartphones, tablets and portable media players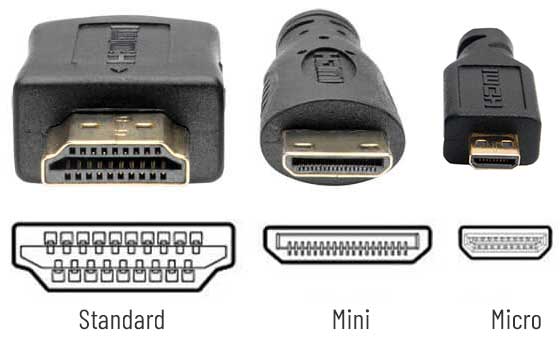 Obviously, the cable you choose must be compatible with the ports on your source device and display. To quickly find a cable to match your devices' connectors, visit our easy-to-use Cable Finder.
What if your laptop or other source device does not have an HDMI connector?
An adapter will enable you to show your content on an HDMI display, connecting to your device's DisplayPort, mini DisplayPort, DVI, VGA or USB-C port.
See HDMI adapters and adapter cables available from Eaton.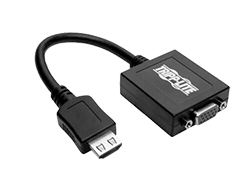 Different configurations of HDMI cables are available for special uses, such as right-angled connectors that fit wall-mounted installations or special plates for panel-mount connections. For more information about these types of configurations, refer to our HDMI Technology Primer.
Video Resolutions – HDMI cables currently on the market accommodate video resolutions of 1080i/720p, 1080p, 4K or 8K. If you are simply replacing a cable to connect older 1080i or 720p components, a standard HDMI cable will suffice. However, HDMI cables are backward compatible, so we strongly recommend upgrading to a high-speed HDMI cable that will support your future needs.
The majority of HDMI displays and components sold today support Ultra High Definition (UHD) 4K video up to 3840 x 2160. Always choose a cable that is at least capable of transmitting the highest resolution supported your video source or display. If you can spend the extra money, get the highest resolution cable available. For example, if your set-top box and TV are capable of 4K/60 frames per second (fps), buy a cable like Eaton's P568-010-8K6 that's rated for 8K/60 fps. If you do experience signal issues, you can eliminate the cable as the cause.
Keep in mind that images will display at the level of the lowest-resolution component in the setup. When HDMI devices are connected or powered on, they use a process known as HDMI Handshake to determine the lowest common denominator for video and audio. For example, if a 1080p video source is connected to a 4K TV, the result will be a 1080p image. All of the capabilities of the cable are considered in this handshake.
The next-generation version 2.1 of HDMI for 8K (7680 x 432) video has arrived. The first HDMI sources that are compatible with 8K video are gaming consoles like the PS5 and Xbox Series X, and 8K TVs are becoming widely available. However, true 8K content is rare. Firmware updates for the consoles may be needed for 8K content when such content becomes available. If you're jumping into 8K, you will need to make your connections with an 8K/60-compatible HDMI 2.1 cable.
For a more detailed explanation of HDMI video resolutions, refer to our HDMI Technology Primer.
What is Chroma Subsampling? – Chroma subsampling is a form of video data compression. It reduces the amount of color data in a video signal in such a way that there is little or no visible impact on image quality. 4:4:4 means video is transmitted with full color data and no subsampling. 4:2:2 and 4:2:0 subsampling represent progressively greater levels of compression.
Read more on Chroma Subsampling in our HDMI Technology Primer.
Cable Length – Opinions vary over the maximum length of an HDMI cable without using an active signal booster. Distance limitations are subject to the quality of the cable, the quality and age of your components and the video resolutions you want to achieve. In general, the consensus seems to be about 50 feet for 1080p and 25-30 feet for 4K video, but distances of over 50 feet are achievable. For distances greater than 25 feet, refer to the section below on HDMI Cables for Longer Distances.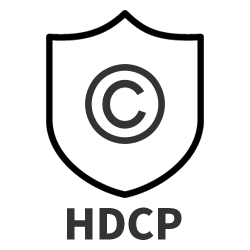 High-Bandwidth Digital Content Protection – Always choose a cable that supports HDCP. Providers of high-resolution digital video and audio use this anti-piracy copy protection to prevent unauthorized use and copying of their content and will give an error, or transmit at a lower resolution, if HDCP is not supported.
What is HDMI with Ethernet?
HDMI with Ethernet allows a device that's connected to an Ethernet network to share the connection with other components over an HDMI cable equipped with Ethernet capabilities. These cables can carry data between the connected devices. Installation is simplified because a single cable does the job of what previously required two cables.
Perhaps the most common application for HDMI with Ethernet is for use with a gaming console. Instead of having to run two separate Ethernet cables, one to an internet-capable display and one to the gaming console, the connection is shared by the two components connected by the HDMI with Ethernet cable.
Note that both of the devices in the installation must support HDMI with Ethernet for this to work. These devices will be labeled as HDMI Ethernet Channel (HEC) compatible. A high-speed HDMI with Ethernet cable will be backward compatible, future-proofing your installation for any new devices, even if your current setup lacks HEC capabilities.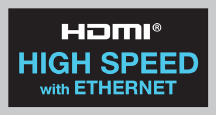 What About Features like HDR and ARC?
High dynamic range (HDR) improves the contrast and detail between dark and bright parts of an image. Both the TV and the content being displayed must be HDR-enabled. Many, though not all, 4K televisions and monitors incorporate HDR. If yours does, a high-speed HDMI 2.0 cable that supports 4K resolutions will support HDR content.
One of your TV's HDMI ports might be labeled ARC or eARC. Audio Return Channel (ARC) enables a TV to use the same cable transmitting the HDMI signal to the TV to "return" the audio signal to a sound bar or AV receiver. That means fewer cables in your setup and you can use your TV's remote to control volume levels. It also provides the ability to transmit Dolby TrueHD or DTS HD Master Audio to your sound bar or receiver. An HDMI cable that supports 4K resolutions will support ARC.
Enhanced Audio Return Channel (eARC) is a feature of HDMI 2.1. It supports full-resolution audio signals, meaning it supports Dolby Atmos and other uncompressed sound formats. If your components support eARC, use a high-speed HDMI cable with Ethernet.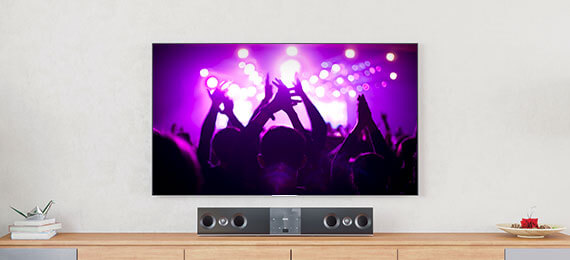 What Are Some Special-Use Considerations for HDMI Cables?
Running HDMI Cables through a Wall – If you will be running your HDMI cables through a wall, look for cables with a CL2 or CL3 rating. These cables have a fire-resistant jacket suitable to low-voltage in-wall applications. Check your local fire codes to ensure you have the correct cables for in-wall applications.
Finish the installation with a professional look by adding HDMI wall plates at the points where the cable exits the wall. If you prefer not to run cables through the wall, an easy-to-install alternative is a wireless HDMI extender.
If running cables through the wall is difficult or undesirable, consider a wireless extender that transmits the HDMI signal via Wi-Fi.
Outdoor/Industrial Installations – For applications that may be exposed to dirt, dust or the elements, such as outdoor digital signage, factory floors or a patio with home theater components, you will want to ensure a connection that resists dust and moisture by using IP68-rated cables. Eaton's IP68-rated HDMI cables can endure immersion in up to 1.5 m of water for up to 60 minutes.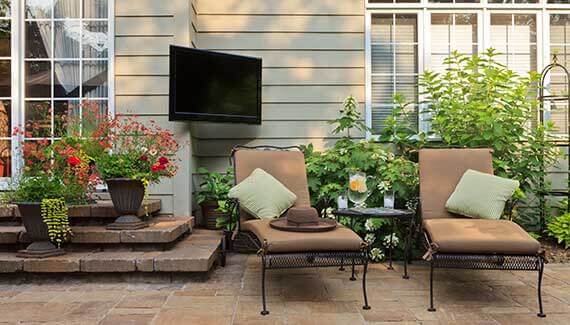 HDMI Cables for Longer Distances
Need to send a 4K HDMI signal beyond 25 feet? One means to accomplish this is to use active HDMI cables. A passive cable is one that simply connects your components and sends the signal directly from the source to the display. An active cable includes a built-in signal booster that enables you to increase the distance between components. For example, Eaton's P568100ACT P586100ACT increases the distance to 100 feet.
Transmitting HDMI Signals Over Distances
| Max. Distance Between Source and Display | Recommended HDMI Solution |
| --- | --- |
| 25 ft. | Passive Cable |
| 100 ft. | Active Cable |
| 150 ft. | Signal Booster |
| 165 ft., wireless | Wireless Extender, Wi-Fi |
| 500 ft. | Extender, Cat6 |
| 1,000 ft. | Extender, Fiber Optic |
You can also get active HDMI cables that incorporate fiber optics technology, such as Eaton's P568-100M-FBR. This cable increases the distance you can send your signal up to 328 feet.
If you want to continue using passive cables, you can add a signal booster in-line signal booster at the receiver end. A signal booster is recommended for cable runs over 30 feet and up to 150 feet to maintain signal quality and maximum resolutions.

What if the project requires longer distances? In that case, you'll need an extender. An HDMI extender allows you to go beyond the distance of a typical HDMI cable without losing the quality of your audio and video. Many extenders use inexpensive Cat6 cable to connect the extender's transmitter and receiver. With Cat6 cable, distances up to 500 feet are possible. Still not long enough? An extender kit that transmits over fiber optic cable can send HDMI signals up to 1,000 feet.
If it is difficult to run a cable between your source and display, consider a wireless extender that transmits the HDMI signal via Wi-Fi up to 165 feet.
Explore Eaton's full selection of HDMI extenders.
What Are HDMI Switches and Splitters?
Simply put, an HDMI switch allows you to output audio and video from multiple sources, one at a time, such as viewing output from a number of security cameras. A switch also is useful if your display has a limited number of HDMI ports because it allows you to plug up to five separate sources into the switch so that you don't have to plug and unplug different sources. Most models let you toggle the displayed source with a remote control.
Some HDMI switches are multi-viewers in that you can show multiple sources on a single display, all at the same time. This allows you to avoid the cost of buying additional displays and is especially useful for video conferencing, digital signage and security applications.
An HDMI splitter takes the signal from one source and sends the image to multiple displays. This is common in auditoriums, large conference rooms, training rooms, schools, houses of worship and environments such as bars and restaurants that want to show the same video on several screens.
An HDMI matrix switch combines the two functions of switches and splitters, enabling multiple sources and multiple displays. Eaton's selection of matrix switches includes models with the capability to connect up to eight different sources to eight different displays. You can show the same content across all of the displays, or different content on all the displays.
See HDMI Switches with up to 5 ports.
For further reading about switches and splitters, refer to our HDMI Technology Primer.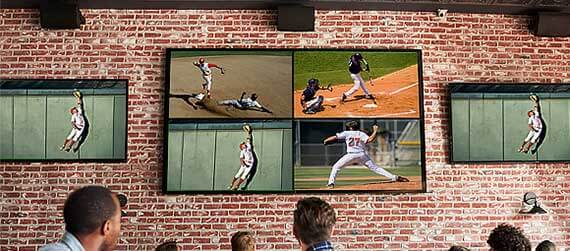 Other Features and Considerations
Gold-Plated Connectors – Over time, cable connectors without gold plating can acquire corrosion build-up and require cleaning or replacement. Gold plating resists oxidation and corrosion, so gold-plated connectors should keep the cable performing at a high level indefinitely. Gold plating is recommended for complex systems and for cables that are inconvenient to replace or refurbish, such as installations in walls. Choosing a high-speed HDMI cable with gold connectors is your best bet to ensure a top-quality picture over time.
HDMI Cables with Gripping Connectors – These cables have specially designed connectors that firmly grip the HDMI port to help prevent accidental disconnection and signal disruption. The gripping connectors resist vibrations that can loosen the connection over time, resulting in greater port retention. They are especially useful for ensuring the cable stays attached in difficult-to-access installations.
Warranties – Odds are your HDMI cable will not give you troubles during its life. But why chance it? Most Eaton HDMI cables come with a limited lifetime warranty for your peace of mind.
A Few Words on Troubleshooting
What should you do if there is no picture or a poor-quality picture in an HDMI connection? This checklist may help you solve the problem.
Make sure you are using the correct input and output ports on your components and that all cables are seated firmly.
Make sure your television's output is selected for the HDMI port to which you connected the source. The source should be selectable on your TV's remote control unit.
Make sure all components, including the amplifier if you're using one, are plugged in and turned on.
If your source has its own display (such as on a laptop) make sure the output is visible on that device.
Try disconnecting and reconnecting all cables.
Perform a simple reset by turning off all devices, unplugging them for a few minutes, plugging them back in and turning them all back on.
Make sure the distance of your HDMI cable does not exceed the limits without using a signal booster or extender.
Ensure the display device supports the resolution of your source device. If not, change the resolution settings on your source.
Try a different HDMI cable. Your cable may be damaged or worn, of low quality or it is a standard cable when your installation would benefit from a high-speed cable.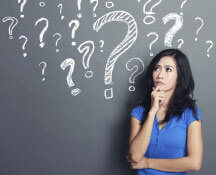 Products Mentioned in this Article
Why Buy from Eaton?
We know you have many brands to choose from. On the surface, they may all seem alike. It's what you don't see that makes the difference. With Eaton, you get solid engineering, proven reliability and exceptional customer service. All our products undergo rigorous quality control before they are offered for sale, and independent testing agencies verify our products meet or exceed the latest safety and performance standards. Our commitment to quality allows us to back our products with industry-leading warranties and responsive customer service. It's the Eaton difference.