KVM Switch or Console Server:
Which is Right For You?
Both are tools for simplifying the management of multiple computers;
the real difference lies in what type of equipment they can manage.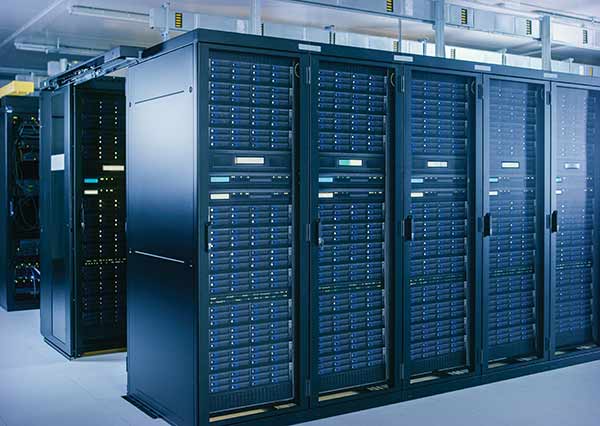 What is a KVM Switch?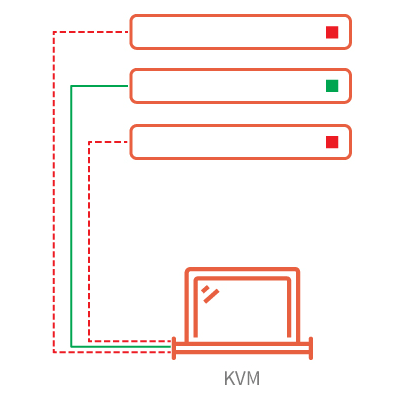 KVM switches allow multiple computers and servers to be controlled from a single keyboard, mouse and monitor. In fact, the name KVM switch is derived from "keyboard, video and mouse". Computers are typically in close proximity to the KVM switch—on the same desktop or server rack, for example.
IP KVM switches function in the same way as local KVM switches, but they can remotely access and control computers and servers from anywhere in the world with an Internet connection.
Use a KVM Switch to manage:
Desktop PCs
File Servers
Domain Servers
Print Servers
Servers
What is a Console Server?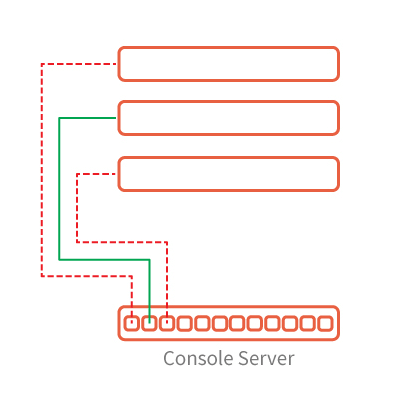 Console Servers provide secure in-band and out-of-band remote access to serial and network-connected equipment through the device's console port or cellular antennae. Out-of-band access with automatic failover provides a fail-safe alternative channel for managing and troubleshooting critical systems if your local network or Internet connection goes down, eliminating a crucial point of failure.
Use a Console Server to manage:
Servers
Firewalls
PBX Systems
UPS Systems
PDUs
Routers
Network Switches
What is a Console Port?
Most switches and routers have a console port. This is used to log directly into the device when a network connection is not available. Use a console (rollover) cable to connect a switch or router to your console server.

What is Out-of-Band Management?
In the remote management of network devices, Out-of-Band (OOB) management gives the system administrator access to routers, switches and other infrastructure without using an IP connection. This is especially important for two reasons: for security and to ensure you can still perform basic administration tasks like rebooting a router when the network is down.
To create OOB access, use a console (rollover) cable to connect each device's console port to a console server. Depending on the type of console server, you will be able to access and manage connected devices via a telephone landline, WiFi or LTE cellular gateway.
Side-by-Side Comparison
KVM Switches
IP KVM SWITCHES
IP CONSOLE SERVERS
Allow users to manage network devices remotely over IP network, in-band (via Ethernet)

Allow users to manage network devices remotely over IP network, out-of-band (via modem/serial port)

Enables display of BIOS on reboot

Include expansion capability, allowing multiple users to manage multiple devices

Provide support of virtual media

Manage "Headless" devices (items without display, keyboard or mouse) such as switches, routers, UPS systems, PDUs, KVMs, Firewalls, some servers, etc.

Have built-in service processor controls

Provide a variety of management tools (IMPI, BMC, NUT, Nagios)

Come equipped with temperature sensors

Provide secure tunneling connections

Embedded, programmable Linux



Products Mentioned in this Article
Have questions or need help?