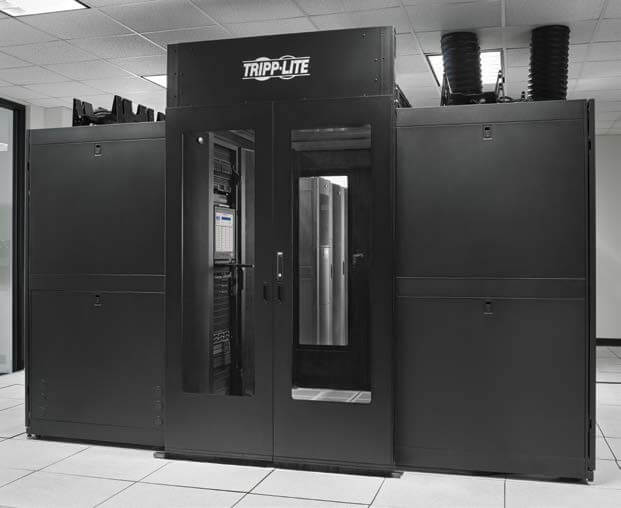 An aisle containment system is a simple way to improve cooling efficiency in hot aisle/cold aisle rack configurations. Essentially creating a room within the aisle, the system helps keep hot and cold air separated to make existing air conditioning systems in data center and edge-of-network installations more efficient.
Browse All
Aisle Containment Kits
Configure Your Own
This buying guide will help you:
Understand what an aisle containment system is and its key features
Learn the questions to ask before you select an aisle containment solution
Compare the different types of aisle containment kits
Top Features of an Aisle Containment System
1 Cooling Optimization
Aisle containment keeps hot and cold air separated for more efficient cooling, better temperature control and improved equipment performance.
Increased cooling efficiency saves energy and lowers air conditioning costs.
2 Convenient Setup
Installation does not require a contractor or HVAC specialist, saving time and expenses.
Kits have a manageable number of parts and include assembly hardware to streamline installation.
Frame mounts to floor with included brackets and user-supplied hardware.
3 Security
Sliding double doors have a key lock for controlled aisle access.
Roof panels and sliding double doors have clear acrylic panels, allowing room light into the aisle for security and monitoring.
4 Compatibility
The system works with any combination of 42U, 45U and 48U rack cabinets from most manufacturers.
Racks can be standard width (600 mm) or wide (750 mm).
The system is compatible with new installations and retrofits to existing aisles.
5 Flexibility
Modular kits make it easy to adjust the system if aisle configurations change.
Telescopic beams adjust to accommodate four to six standard-width racks per side or four to five wide racks per side.
Multiple kits may be connected for longer aisles.
Aisle Containment Kits
An aisle containment system is designed to be installed without the assistance of contractors or HVAC specialists. The components are organized into modular kits and come with assembly hardware for easy step-by-step installation. Depending on your hot-aisle/cool-aisle needs, you can select from an assortment of configurations to reduce energy requirements up to 25%.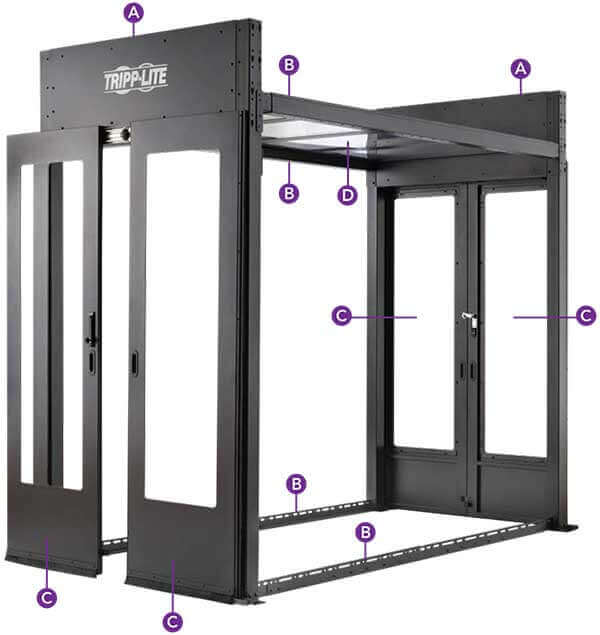 Riser Panels (not shown)
Riser panels are for installations with racks of varying heights. Panels attach to the underside of the upper support beams with the included hardware.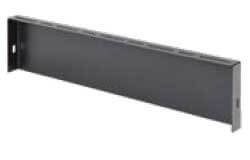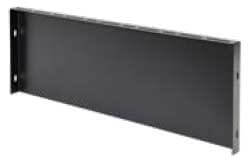 Aisle Containment Kit Model Number Chart
All kits include assembly hardware and have a 5-year limited warranty. Hot-aisle containment requires user modification for exhaust air venting.
Why Buy from Eaton?
We know you have many brands to choose from. On the surface, they may all seem alike. It's what you don't see that makes the difference. With Eaton, you get solid engineering, proven reliability and exceptional customer service. All our products undergo rigorous quality control before they are offered for sale, and independent testing agencies verify our products meet or exceed the latest safety and performance standards. Our commitment to quality allows us to back our products with industry-leading warranties and responsive customer service. It's the Eaton difference.
Glossary of Terms
Acoustic Rack
A quiet server rack cabinet that secures and organizes standard rack equipment in IT networking areas where sound needs to be reduced.
Active Cooling
The process of cooling rack equipment using an AC unit that requires an electrical power source, such as an air conditioning rack cooling unit or roof server rack cooling fan.
Brush Strip
A vital component of a rack cooling aisle containment system that are installed around the doors and magnetic filler panels between network frames and racks to help keep cool air contained.
Cooling Optimization
Separates hot and cold air to eliminate hot spots and provide more uniform, predictable, effective and efficient cooling.
Frame End Kit
A modular kit that is part of a rack aisle containment system which provides upper rack cooling management between rows of racks to prevent hot air exhausted by network equipment from recirculating to rack intakes.
Hot/Cold Aisle Cooling
A hot‐aisle/cold‐aisle configuration separates hot and cold air within rows of network rack enclosures, providing better control of airflow between network servers and other rack equipment.
Open-Frame Rack
A network server rack that do not include side panels or a front door. Open-frame racks are ideal for a single rack of equipment where component security is not a concern.
Passive Cooling
A process of network rack cooling that incorporates physical rack panels and 1U rack kits without the electrical AC costs of rack air conditioners.
PCI Compliance
The Payment Card Industry Data Security Standard, or PCI for short, sets forth requirements designed to ensure that all companies that process, store or transmit customers' credit, debit or ATM card information maintain sufficient security.
Rack Cabinet
A rack enclosure structure designed for mounting network rack equipment such as servers, routers, UPS systems, switches and hubs. Rack cabinets provide equipment organization, security and cable management.
Roof Panel Kit
A clear roof modular kit that includes two magnetic filler panels to close gaps between beam kits and other rack aisle containment components to optimize cool airflow.
Seismic Zone 4
Refers to the IP54 standard that protects sensitive network equipment from large earthquakes and harsh conditions that would overwhelm a typical rack enclosure.
Sliding Double-Door Kit
Aisle containment sliding double-doors are a modular kit that provides locking doors with clear panels, and includes brush strips to help contain rack aisle cooling.
TAA Compliance
TAA refers to the Trade Agreements Act which is intended to foster fair and open international trade. TAA requires that products must be produced or undergo "substantial transformation" within the United States or a designated country.
Telescopic Beam Kit
A modular kit of adjustable beams that connects aisle containment frame end kits and supports clear roof panels in an aisle containment system designed to optimize cool airflow between rows of rack cabinets.