Docking stations explained
Choosing the best docking station for your laptop or tablet
As laptops and tablets get smaller and thinner, there is less room for video, USB and Ethernet ports. In fact, the newer your laptop or tablet, the fewer ports it is likely to have.
The lack of ports creates a challenge when you need to access multiple peripherals or storage devices.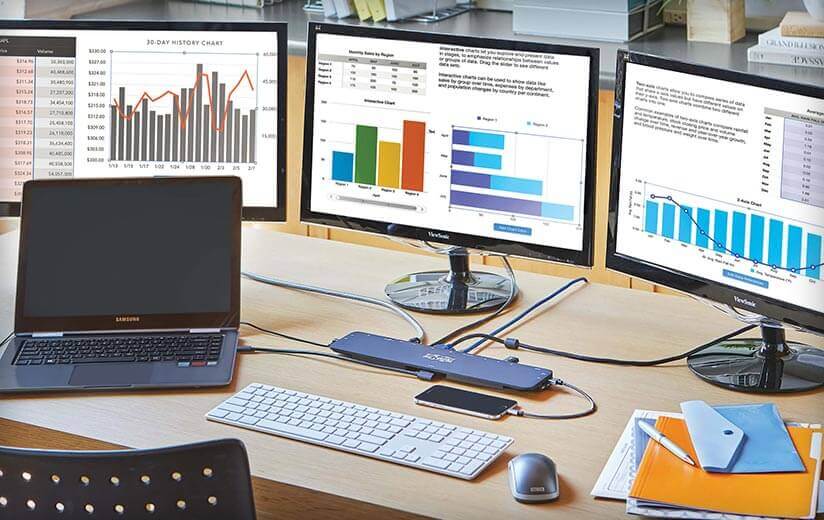 What is a docking station?
A docking station adds ports to your device with a single connection to a USB-C, Thunderbolt or USB-A port. It's a simple way to help you unleash the potential of your laptop and create a powerful multipurpose workstation.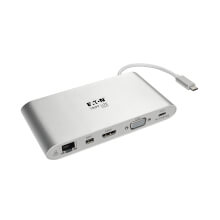 Who needs a docking station?
Anyone who connects peripherals to a laptop needs a docking station. Newer laptops and tablets simply do not have many ports. As devices get smaller, there is less room for ports to accommodate peripherals like external monitors, keyboards, mice and headsets.
Docking stations can offer ports for video, audio, USB, Gigabit Ethernet, charging via Power Delivery (PD) and reading memory cards. With a connection to a single USB-C, Thunderbolt or USB-A port, a docking station can transform a laptop into a desktop workstation.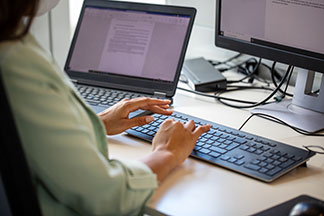 What are some uses for docking stations?
Depending on the model, docking stations can provide ports for a wide variety of applications:
Display video on one or more external monitors
Transfer data at speeds up to 10 Gbps
Get fast charging via Power Delivery (PD)
Connect to the internet when Wi-Fi is weak or unavailable
Listen to music with headphones or speakers
Charge smartphones and other mobile devices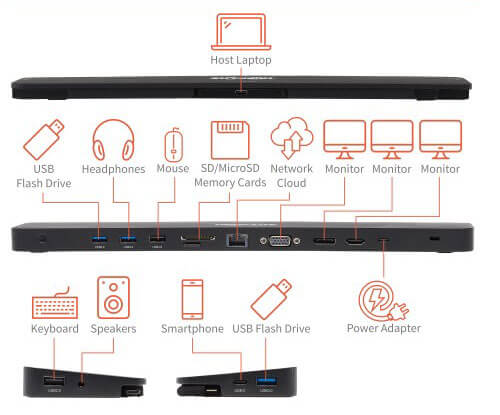 Where are docking stations useful?
Docking stations are useful solutions for travel and permanent computer setups:
As portable solutions, docking stations reduce the need to travel with multiple adapters.
When used as permanent desktop solutions, docking stations provide the convenience of having just a single cable to connect to your laptop.
Some common places to use docking stations:
Corporate offices
Home offices
Shared workspaces (hot desking, office hoteling)
BYOD or CYOD (Bring/Choose Your Own Device) environments
Conference rooms
Classrooms
Computer labs
Audio/video installations
Buying a docking station? Features to look for
Types of docking stations
The port on your laptop or tablet determines the type of docking station that you need.
DP Alt Mode Video Output
DisplayPort Alternate Mode (DP Alt Mode) allows a compatible device to output HD (1080p) or UHD (4K or 8K) video through a docking station to an external television, monitor or projector without installing special software drivers. Some docking stations can support multiple external monitors simultaneously.
Video ports include HDMI, DisplayPort, Mini DisplayPort, DVI and VGA.
Audio Support
Docks with HDMI, DisplayPort and Mini DisplayPort output deliver digital audio. Some docking stations also include a separate 3.5 mm audio output.
Charging via Power Delivery (PD)
Power delivery (PD) technology passes through up to 60W or 100W (depending on model) from a USB-C charger to a connected laptop or other device. This is especially helpful for devices with only one USB-C port.
Thunderbolt 3 and 4
Thunderbolt is a signaling standard developed by Apple and Intel. Thunderbolt 3 and 4 have a maximum bandwidth of 40 Gbps.
USB-C solutions are typically compatible with Thunderbolt 3 and 4 ports (applies to devices like computers, tablets and smartphones, not separate displays).
See our Thunderbolt docks.
Learn more about Thunderbolt technology.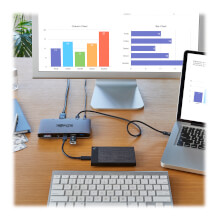 Extra USB Ports
Docking stations with extra USB ports can connect the host device to peripherals and other devices, such as printers, external drives and smartphones. Docks are available with USB-A and USB-C ports.
Learn more about USB technology.
Gigabit Ethernet (GbE)
A Gigabit Ethernet port provides network connectivity when Wi-Fi is too slow or simply unavailable.
Memory Card Readers
Built-in memory card readers transfer data to and from MicroSD, SD and MMC cards.
Other Options
Hubs, switches and multiport adapters also add ports to a laptop or tablet using a single USB connection. See our full line of docking stations, hubs and multiport adapters.
NEED HELP FINDING THE PERFECT DOCK?
Product Advisor can recommend a dock with all the features you'll need to turn your laptop into a powerful workstation.

Products Mentioned in this Article
Tripp Lite is now part of Eaton
Tripp Lite is now part of Eaton, a premier global provider of power management technologies and services.
Eaton's Tripp Lite business provides industry-leading digital infrastructure solutions, including server racks, cooling, KVMs, surge protectors, cables and connectivity products.
Combining our product strengths and expert personnel allows us to bring you comprehensive and innovative solutions backed by quality, service and support you can trust.