Product Status
Discontinued on 8/3/2020
8.6kW 3-Phase Monitored Automatic Transfer Switch, 2 208V L21-30P Inputs, 1U (0U PDU Accessory Sold Separate)
Part Number:
PDU330AT6L2130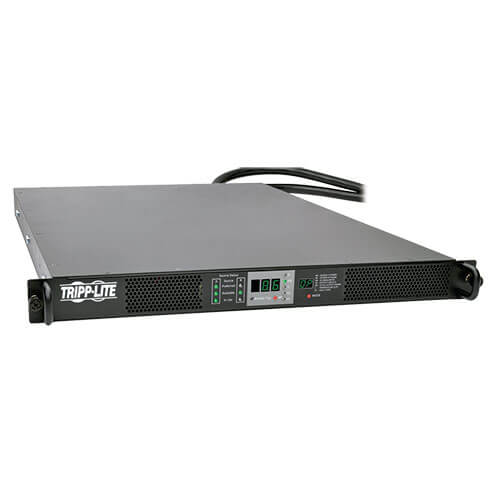 This Model has been retired and has not been replaced. An Owner's Manual and other information for the PDU330AT6L2130 is available on the model support page
---
The PDU330AT6L2130 8.6kW 3-Phase 208V Monitored Automatic Transfer Switch / ATS PDU provides remote power monitoring and enables redundant power for network devices with non-redundant power supply configurations. Working in tandem with a required 0U vertical outlet accessory (sold separate; choose from PDU3V20D354, PDU3V20D354A or PDU3V20D354B), the 1U PDU330AT6L2130 is ideal for data centers and server rooms. Tripp Lite's breakthrough 3-phase rack ATS (U.S. Patent 9,467,006) provides rapid coordination of unsynchronized phases without dropping loads and operates with the high efficiency and reliability required for data center applications.
Dual 6-foot input cords with L21-30P plugs connect to separate primary and secondary 3-phase power sources. The PDU constantly evaluates the power quality of both input sources. Dynamic solid-state (TRIAC) automatic transfer switching allows the PDU to switch to the secondary source within 1–6 milliseconds should the primary source fail or become unstable to ensure your connected equipment operates without interruption.
Built-in Ethernet network interface allows remote access to the PDU for power monitoring, configuration, control and notifications via web browser, SSH, telnet or SNMP. Provides real-time load/current data with billing-grade accuracy (±1 percent). Tiered access privileges allow both an administrator and a guest to log in. Automated alerts help prevent accidental overloads, power loss and downtime. Digital LED display indicates power availability, voltage, source A/B input status, output load and power factor, as well as temperature and humidity conditions with the optional ENVIROSENSE module (sold separate).
Primary and Secondary Inputs for Power Redundancy

Provides remote power monitoring and enables redundant power for network devices with non-redundant power supply configurations
Dual 6 ft. input cords with L21-30P plugs connect to separate primary and secondary 3-phase power sources
Automatic Transfer Switching
Dynamic solid-state (TRIAC) automatic transfer switching
Patented ATS technology provides rapid coordination of unsynchronized phases without dropping loads
Switches to secondary power source if primary source fails or becomes unstable
1–6 ms transfer time ensures uninterrupted operation of connected equipment
Built-in processor monitors both sources and prevents switching if secondary source is unavailable or of lower quality than primary source
Multifunction Digital LED Display
Reports source A and source B input power status and other information, including power availability, line voltage, frequency, amps, kilowatts and power factor
Advanced Network Monitoring
Built-in Ethernet network interface allows full remote access for power monitoring, configuration, control and notifications via web browser, SSH, telnet or SNMP
Real-time load/current data with billing-grade accuracy (+/- 1 percent)
Tiered access privileges allow both an administrator and a guest to log in
Automated alerts help prevent accidental overloads, power loss and downtime
Supports centralized management through NMS or DCIM platform
Optional ENVIROSENSE module (sold separately) monitors temperature and humidity
Broad Communications Compatibility
Supports HTTP, HTTPS, PowerAlert®, SMTP, SNMPv1, SNMPv2, SNMPv3, Telnet, SSH, FTP, DHCP, BOOTP and NTP
20A Circuit Breakers
Protect each of three single-phase output banks
Front-panel LED indicates when breaker has tripped
0U Vertical Outlet Accessory Required
Requires separate installation of Tripp Lite PDU3V20D354, PDU3V20D354A or PDU3V20D354B (sold separately)
Supports 0U toolless button-mount rack mounting
Mounts Horizontally in 1U of Rack Space
Compatible with EIA-standard 19 in. 4-post racks and rack enclosures
OVERVIEW
| | |
| --- | --- |
| UPC Code | 037332191519 |
| PDU Type | Monitored; Auto-Transfer Switch |
INPUT
| | |
| --- | --- |
| Input Phase | 3-Phase |
| Maximum Input Amps | 24 |
| Maximum Input Amps Details | Agency de-rated to 24A continuous |
| PDU Plug Type | (2) NEMA L21-30P |
| Input Cord Details | Set of 2 inputs enable connection to separate PRIMARY and SECONDARY power sources |
| Input Cord Length (ft.) | 6 |
OUTPUT
| | |
| --- | --- |
| Output Capacity Details | 8.6kW (208V) total capacity; 13.9A max per output phase (L1-L2, L2-L3, L3-L1), 12A max per C13 outlet |
| Frequency Compatibility | 50 / 60 Hz |
| Output Receptacle Details | 0U vertical output power distribution component is a required accessory; Order REQUIRED PDU accessory PDU3V20D354 (54 C13 outlets), PDU3V20D354A (42 C13 and 12 C19 outlets) or PDU3V20D354B (48 C13 and 6 C19 outlets) |
| Output Receptacles | C13; C19 |
| Output Nominal Voltage | 208 |
| Overload Protection | 3 20A double-pole breakers (1 per breakered outlet bank) |
USER INTERFACE, ALERTS & CONTROLS
| | |
| --- | --- |
| Reported Load Segments | Supports local display of A & B line INPUT CURRENT, INPUT VOLTAGE & FREQUENCY per phase, OUTPUT CURRENT, KW, VOLTAGE & POWER FACTOR per phase, TOTAL OUTPUT POWER (kW), PHASE IMBALANCE (%), TEMPERATURE (C/F), FAULT CODE and SCROLL IP |
| Front Panel LCD Display | Large 3-character display reports data for reported values; Additional 2 character identifies the measurement value or specific location the displayed measurement applies |
| Front Panel LEDs | Set of 6 LEDs indicate A/B input PREFERRED, AVAILABLE & IN USE status; Set of 5 LEDs label the measurement value displayed (AMPS, KW, VOLTS, HZ & POWER-FACTOR); One additional red LED reports BREAKER TRIP status |
| Switches | MODE and ENTER buttons enable navigation and viewing of all reported information |
| Current Measurement Accuracy (Amps) | +/-1% |
| Voltage Measurement Accuracy (Volts) | +/-1% |
| Power Measurement Accuracy (Watts) | +/-1% |
PHYSICAL
| | |
| --- | --- |
| Material of Construction | Steel |
| Form Factors Supported | 1U rackmount ATS module; Separate purchase 0u vertical mount PDU outlet distribution bar sold separate (3 options available) |
| PDU Form Factor | Horizontal (1U) |
| Shipping Dimensions (hwd / in.) | 5.00 x 27.95 x 41.54 |
| Shipping Weight (lbs.) | 42.55 |
| Unit Dimensions (hwd / in.) | 1.720 x 17.000 x 25.980 |
| Unit Weight (lbs.) | 26.8 |
ENVIRONMENTAL
| | |
| --- | --- |
| Storage Temperature Range | -30°C to +50°C (-22°F to +122°F) |
| Relative Humidity | 5-95% non condensing |
| Operating Elevation (ft.) | 0-10,000 |
| Operating Elevation (m) | 0-3000 |
COMMUNICATIONS
| | |
| --- | --- |
| PowerAlert Software | SNMPWEBCARD Interface: PowerAlert 12 |
| Communications Cable | DIN-to-DB9 configuration/console Access cable |
| Network Compatibility | 10 Mbps; 100 Mbps (Fast Ethernet) |
FEATURES & SPECIFICATIONS
| | |
| --- | --- |
| Grounding Details | Included |
| High Availability PDU Features | Auto-Transfer Switching |
WARRANTY & SUPPORT
| | |
| --- | --- |
| Product Warranty Period (Worldwide) | 2-year limited warranty |