Model Number: SRCOOLNET
This Model has been retired and replaced by SRCOOLNETLX. An Owner's Manual and other information for the SRCOOLNET is available on the model support page
SNMP Webcard Interface Module - Remote Cooling Management for Use with SRCOOL12K or SRXCOOL12K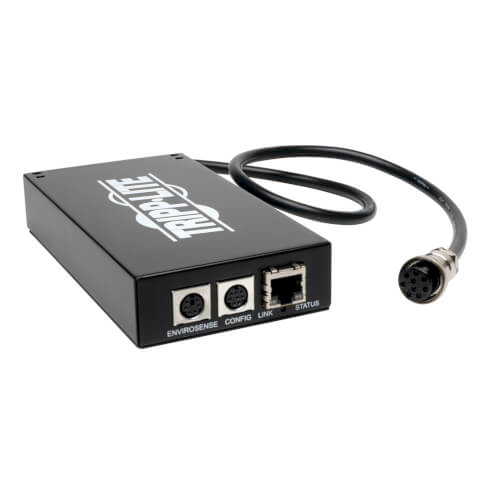 ---
Java Runtime Environment v8 Update 71 Alert!
View the PDF file 'Java Runtime Environment v8 Update 71 Alert' within the 'Resources' section below.
The SRCOOLNET adds remote SNMP monitoring and management capabilities to the updated SRCOOL12K and SRXCOOL12K Portable Air Conditioning Units. The SRCOOLNET includes the Envirosense temperature and humidity module and mounting hardware for easy installation. The unit provides the ability to remotely adjust fan speed, cooling temperature, and dehumidification modes. The included EnviroSense module can be used instead of the temperature sensor within the SR(X)COOL12K to monitor ambient conditions and to control the temperature set point of the SR(X)COOL12K. This helps ensure that supply air to important equipment is at or below a target temperature in cases where SR(X)COOL12K is indirectly supplying cold air to that equipment. The included AC power adapter supports 100-240V 50/60Hz worldwide voltage capability with either the NEMA 1-15R or CEE7 SCHUKO snap-in plug adapters.
Turns the SRCOOL12K and SRXCOOL12K Portable Air Conditioning Units into managed devices on the network using SNMP network management platform or a web browser
Included ENVIROSENSE module provides remote monitoring of temperature and humidity
Included PowerAlert Software provides a single interface for both the SRCOOL12K/SRXCOOL12K and the ENVIROSENSE module
OVERVIEW
| | |
| --- | --- |
| UPC Code | 037332180117 |
| Accessory Type | Remote Management; SNMP Card Module |
| Accessory Class | Cooling Accessories |
INPUT
| | |
| --- | --- |
| Nominal Input Voltage Description | 100-240 VAC ; 50/60Hz |
| Plug Type | NEMA 5-15P Adapter |
USER INTERFACE, ALERTS & CONTROLS
| | |
| --- | --- |
| LED Indicators | 1 Link LED to confirm connection and indicate speed & 1 Status LED to indicate when the card is initialized |
PHYSICAL
| | |
| --- | --- |
| Color | Black |
| Material of Construction | Metal |
| Shipping Dimensions (hwd / in.) | 3.50 x 7.20 x 6.30 |
| Shipping Weight (lbs.) | 2.00 |
| Unit Dimensions (hwd / in.) | 1.250 x 3.000 x 5.800 |
| Unit Weight (lbs.) | .71 |
WARRANTY & SUPPORT
| | |
| --- | --- |
| Product Warranty Period (Worldwide) | 2-year limited warranty |